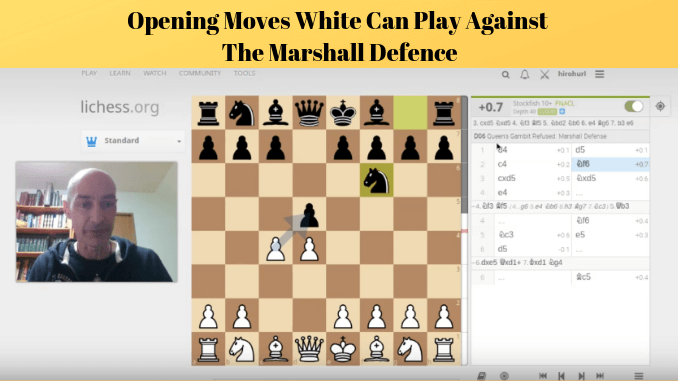 In this video I take you through some chess opening moves White can play when Black responds with the Marshall Defence.
The Marshall Defence occurs after 1. d4 d5 2. c4…
Black now moves his g8 Knight to f6. When that happens, what should White do? Watch my chess opening moves video to find out!
The post Chess Opening Moves White Can Play Against The Marshall Defence was first published on my Easy Chess Tips blog. Check it out for a more detailed overview of how White can respond when Black plays the Marshall Defence.
27th January 2019 Update: I posted another video about the Marshall Defence on this blog, dealing with the moves 4 e4 Nb6. I played as White in a game against my regular chess partner who responded to my Queen's Pawn Opening with the Marshall in which those were our fourth moves.
DH