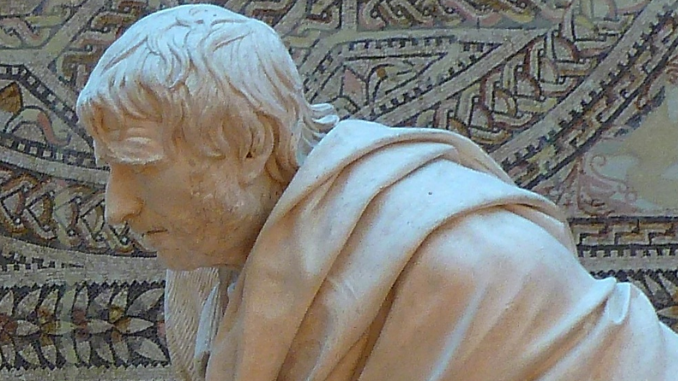 Towards the end of 2016 I bought The Daily Stoic by Ryan Holiday and Stephen Hanselman. It is a year book of 366 "meditations on wisdom, perseverence, and the art of living." One page is devoted to each day of the year, with a thematic heading, a quotation by one of the Stoic philosophers, and an few paragraphs of commentary.
I first blogged about it here on 31st January as the topic of the previous day, "You don't have to stay on top of everything" resonated with me at that time.
That was nearly two years ago. On New Year's Eve 2018 I completed the book for the second time. The next day I went back to the beginning and started again for the third time.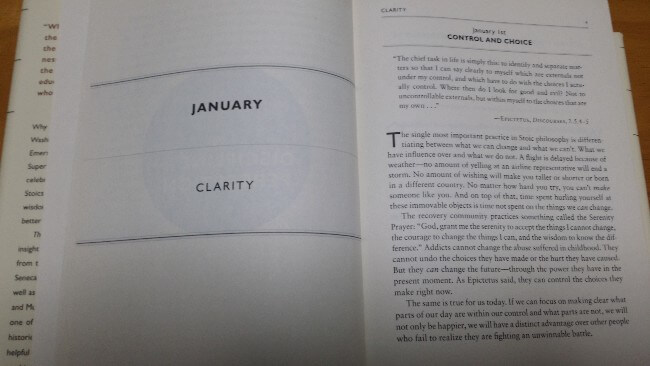 The book divides the year into three four month segments, and each third covers one of the three parts of the self, rising from Perception (January-April) through Action (May-August) to Will (September-December).
Each month has its own focus within each of the three disciplines. January is all about gaining clarity.
Ah yes, clarity.
Clarify Your Intentions
Today's topic, for example, happened to be "Clarify Your Intentions" and the quotation was from Seneca's On Tranquility of Mind XII.v, which reads:
| | |
| --- | --- |
| Omnis itaque labor aliquo referatur, aliquo respiciat.  Non industria inquietos, ut insanos falsae rerum imagines agitant | Let all your efforts be directed to something, let it keep that end in view. It's not activity that disturbs people, but false conceptions of things that drive them mad. |
The commentary mentions Stephen Covey's second "habit of highly effective people,"
And also the 29th of Robert Greene's 48 Laws of Power, albeit with a different emphasis,
Plan all the way to the end.
I just looked up Greene's 29th Law and it is not the Stoics who are quoted, but Clausewitz and Richelieu among others:
"There are very few men – and they are the exceptions – who are able to think and feel beyond the present moment."

Clausewitz

"Experience shows that, if one foresees from far away the designs to be undertaken, one can act with speed when the moment comes to execute them."

Richelieu
Bismark or Napoleon?
Incidentally, Greene regards Bismark as the prime exemplar of keeping the end in view when making plans; something that Napoleon neglected to do, to Tallyrand's dismay. The difference between Napoleon and Bismark can be illustrated by their attitude to preventative war. Napoleon resorted to it repeatedly, Bismark less so because, as he writes in his memoirs:
"…one cannot see the cards of Providence far enough ahead to anticipate historical developments according to one's own calculations.

Bismark. Source: https://www.cato.org/publications/commentary/what-napoleon-bismarck-teach-us-about-preventive-war
Bismark was no Stoic, but, unlike Napoleon, he had sufficient control of his perceptions – clarity – to see what was outside of his control and to avoid it.
How to Avoid the Oblivion of Directionlessness
Even worse than mistakenly pursuing an end that is out of your control is to go about with no end in mind at all. Today's commentary ends with the warning that if you fail to define any ends for yourself, you may be driven into "the oblivion of directionlessness."
Building up the habit of clarifying your intentions can help you gain control over your life. If your goals are clear and purposeful, then they can help you say, "No," and, as yesterday's reading put it,
"be ruthless to the things that don't matter."

The Daily Stoic, p. 11