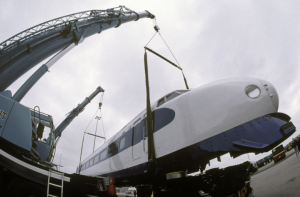 As part of the "Japan Festival" celebrations that took place throughout Britain from May 2001 until March 2002, the leading car of a "Series O" Bullet Train was transported from Japan to York in Britain.
The Shinkansen "Series 0" leading car was transported 10,000 miles by sea from the Japanese port of Hakata to the British port of Southampton. It was then loaded onto a special trailer and taken to York by road.
In York, the Bullet Train was lowered onto railway track and arrived at the museum by rail. The car arrived on schedule and is now on display at the National Railway Museum.
This is the first time that a Bullet Train has been displayed outside Japan, and it is the first foreign-built railway vehicle to enter the National Collection of Great Britain.
The Bullet Train – or "Shinkansen" as it is called in Japan – revolutionized rail travel in the 1960s, a time when Britain was still emerging from the age of steam. "Shinkansen" means "New Main Line" in English, and refers to the fact that special railway lines were made for the Shinkansen to run on.
The Bullet Train was unveiled by the Japanese Ambassador, Sadayuki Hayashi on 12th July at the National Railway Museum, York. More than 400 people attended the ceremony.
The launch of the Museum's new Shinkansen exhibition was celebrated with performances by the all female drumming group, Tamashii Daiko. Barrels of Sake were cracked open in as part of a traditional Japanese ceremony called "Kagami-wari". Flowers were presented by Kimono-clad Japanese ladies. On the British side, the Boy Choristers of York Minster sang.
Andrew Scott, Head of the National Railway Museum, said:
"There has been a tremendous spirit of partnership and co-operation throughout this amazing venture, from restoring the Series 0 for display and shipping it to the UK, to the transfer into the Museum and the creation of this wonderful exhibition."
The 82 feet long leading car was built in 1976 as part of a fleet of high-speed trains. Car 22-141 served as the leading car of a sixteen carriage train on the Tokyo-Osaka line until 1997. From 1997 until it was withdrawn from service in October 2000 it travelled between Hiroshima and Hakata as part of a four carriage train.

Multiple Choice Questions

You'll be able to see the answers immediately.