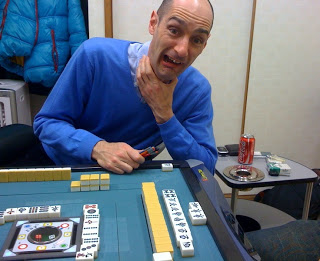 Here is a belated history of the 2009 winter campaign at the Cock's-Eye Mahjong Club.
The last time I wrote anything here, Noda had got into second place while David was shedding points and defending gains and Hide was also threatening to take the crown.
Noda's year-end winning streak continued to the end and he was in first place by the close of play on 9th November, the 85th anniversary of the Beer Hall Putsch, while David performed a belly flop under fire.
The following week, Noda's "march on Berlin" saw him break the highest score record for the year.
On St Nicholas' Eve Noda won again, but Santa Claus was kind to Jaime, who finally managed to finish an evening in positive territory and began something of a mini-revival.
Jaime's winter offensive rolled on, and over the lightly defended American sector commanded by Kenyon, who made a rare visit to the front on 10th December.
Would Sepp Dietrich really achieve a breakthrough and reach the sea before the end of the year?
On 14th December Noda's advance continued, while David suffered a treble disaster in a single game by committing TWO chombos and ending up skewered with a Yakitori on the table and began to wonder if he would finish the year in the black after all… It was the siege of Bastogne all over again!
"Surrender?"
"NUTS."
And the evening was salvaged with a last game revival.
David's two chombos were his first of the year, but not his last…
By now it was clear that Noda would be the winner. The questions remaining were, "Who will finish in second place?" and, "How far will Sepp Dietrich get before running out of fuel?".
The final game of the year was not played at Kodama, but at a new janso near Takanobashi, Hiroshima, which Hide recommended. The janso had previously been a love hotel.
David finished top in each of the first three games and began to fondly think of a year-end shock victory over the absent Noda when he threw away the West tile…
Hide cried "Ron" and revealed Tsuuiisoo (4 Winds). David had to pay out 64,000 for the hand… and his winter counter offensive came to a halt, although he had made up enough ground to finish the year in second on +303 points, enough to keep Hide at bay.
David gets caught by Hide's Tsuiisoo (4 Winds) hand.
Nobu joined us and broke the year's bottom record in a single game.
Sepp Dietrich's advance was hampered by lack of fuel and clear weather. His armour was blasted in a series of air strikes from Hide and David. Jaime abandoned his panzers and retreated on foot…
So the year ended as it always ends, with Noda on top.
| | | | | |
| --- | --- | --- | --- | --- |
| Name | Played | Chombo | Yakitori | Score |
| Noda | 80 | 2 | 0 | +494 |
| David | 91 | 3 | 6 | +303 |
| Hide | 50 | 0 | 0 | +278 |
| Koji | 5 | 0 | 0 | +143 |
| Neil | 3 | 0 | 0 | +94 |
| Ray | 13 | 0 | 0 | +77 |
| Kenyon | 21 | 0 | 0 | +61 |
| Kiyo | 1 | 0 | 0 | -39 |
| Jezz | 6 | 1 | 0 | -44 |
| Yasu | 4 | 1 | 0 | -152 |
| Jaime | 96 | 6 | 3 | -469 |
| Nobu | 30 | 7 | 2 | -746 |
David Hurley
Japanese-Mahjong.com