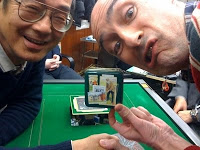 A quick glance at our 3 player mahjong scoreboard for 2010 will show that Noda is registered as having achieved the highest score so far this year, the best result AND the worst result after just two evenings of play.
Highest score = Noda +124
Lowest score = Jaime -89
Best result = Noda +124
Worst result = Noda -96
Friday January 15th
The first game took place on January 15th amid the smog of cigar smoke as David and Jaime puffed away in celebration of David's birthday.
Those two had spent the previous couple of hours in Kemby's along with Noda, Ray, Tim (and his new Kindle), Don, Alex, Tim. The cigars had been procured from the upstairs bar, which really deserves to be better frequented as one of the few cigar bars in town. A worrying sign was that the number of cigars available was considerably fewer than the range of cigars on offer on the menu…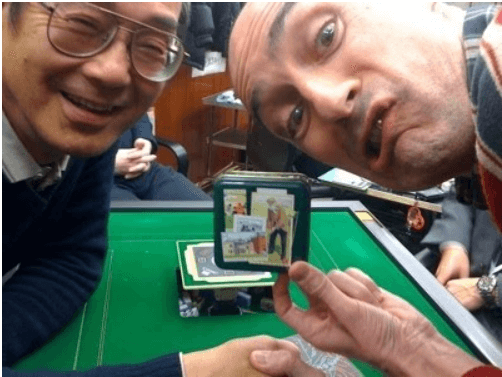 Don accompanied the mj players back to Kodama and was present at the brief prize-giving ceremony in which Noda was awarded a natty Saint Andrew's golf tin containing a divot tool and ball place markers and Nobu was awarded a chopstick rest in the form of a DUCK. (There are five more chopstick rest ducks available for award ceremonies for the years 2010-2014.)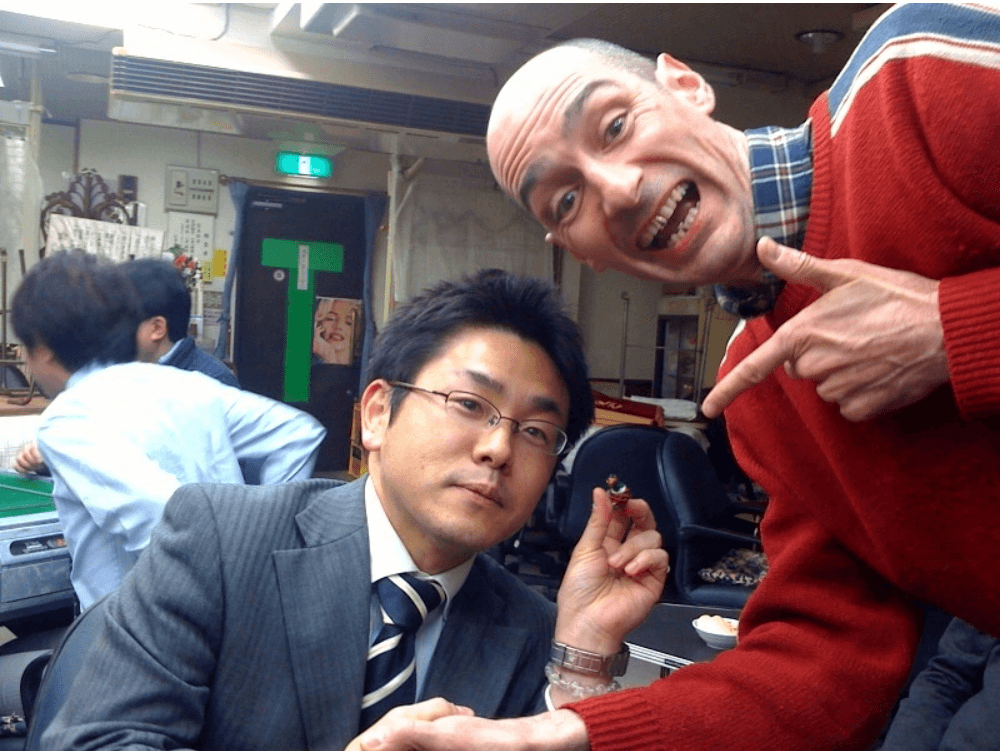 The air was thick with chatter and smoke, so it is no surprise really that Noda started the year as strongly as he finished the previous one.
The amazing thing is that David managed to get into double figures on the beer front, go through two cigars and end up in his favoured position of "second and in the black".
Noda +33, +91, –, –, — = +124
David –, -14, +36, -14, +3 = +11
===
Ray -2, –, +3, +21, -23 = -1
Nobu -24, 0, -22, –, — = -46
Jaime -7, -76, -17, -7, +20 = -88
Friday January 22nd
The second evening of play was a much quieter affair as far as the peripheral activities are concerned and all the activity was focused on mj play.
Noda, David and Jaime got through six games in the evening. David ran away with the first game at Jaime's expense. Noda threatened to take over in the second but was contained.
We changed seats. Noda moved into the unoccupied seat to his left and David and Jaime switched places. David continued to do well, but the real focus of play shifted as Jaime recovered from the minus 90s and Noda languished and even got caught with his Yakitori on the table, the first of the year!
The score sheet was left at Kodama, but the final reckoning was as follows:
David +97
===
Jaime -1
Noda -96**
** Yakitori