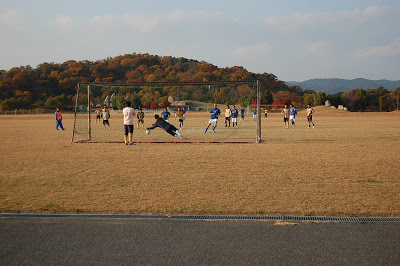 Above: Disappointment as Jaime's penalty is saved…
Here's a pic of Jaime taking the first of our three penalties during a fine game played in lovely autumnal weather on the grass pitch in the park near Hiroshima airport. As you can see, the shot was on target, but the other team's goalkeeper was wide awake and saved the penalty. One of our strikers pounced on the ball but the angle was too oblique for him to squeeze it home.
Altogether it was an eventful first half, which I happily observed from the touchline. We scored first, but then they replied with three goals. Then they gave away the penalty and Jaime stepped up to take it…
Half time score 3:1.
Jaime came off at half time and I went on at left back. Within five minutes of the second half one of their nippy attackers ran through with the ball. I didn't close him down and he shot. Our stand-in goalkeeper, the team captain, seemed to have the ball covered but to our dismay he completely misjudged it and the ball went over his arms and into the goal…
4:1.
Game over, you might think, but our team never seems to give up and even the oldest member was in reasonable form despite the excesses of two successive nights of mahjong and booze, and able to intercept a few balls with boot and head and even stay on the ball long enough to turn and pass it back at one stage!
Charging forward in support of the attack, I put in a follow up shot after one of our attackers' shots came of the goalkeeper – my left footed shot was also on target, but unfortunately it was blocked by the goalkeeper.
Every time there was a corner I went up and played my customary decoy role – the height advantage worries the defenders, and takes their mind off out younger skillful players! Mind you, if the goalkeeper had not been so good at plucking the ball from mid-air it would have dropped right where I was on the goal line.
Anyway, we won a penalty, which was slotted home, and then scored in open play with about five or ten minutes left. Then right at the end our attacker broke through and into the box where he was blatantly tripped by the last defender… Penalty!
He put the ball away with great composure to bring the score up to 4-4 with less than a minute to go. For that he got called "You f***ing hero," and a clap on the back by the oldest player in the team.
The other team kicked off, and a few kicks later the ref blew the final whistle. Utter elation!
Above: Just to prove that I really was on the pitch, policing the left of the defence…