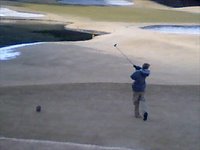 It is Monday morning, and I think I have recovered. Thursday, Friday and Saturday were spent celebrating Jaime's wedding. Activities included golf, bowling, mahjong, cigars, booze, the wedding ceremony itself and the reception at the Rihga-Royal Hotel, and parties at three bars: Kembys, Kulcha and Plasir, as well as regular trips to the sauna and bath-house to recover from one event and prepare for the next. 
The only activity that seems to be missing from the list is football, but the chief players of the DEH team showed up in force at Plasir and the young, skillful and good looking bachelors (i.e. the Japanese players) swiftly attracted the attention of the several attractive young women who were there ostensibly for Jaime & Sawako's nuptial celebrations, but mostly, it seems, to find themselves some young, fit, handsome Japanese bachelors…
A party of four headed up to Forest Hills Golf Club on a rather parky Thursday morning. The party consisted of Jaime, Tim (Jaime's friend from Barnsley who flew out to Japan to join the celebrations), Flynn (Jaime's 11 year old nephew), and David.
Here's a photo of Flynn just after topping his ball off the tee of the 13th, a par three hole with water on one side and a snow-filled bunker on the other side guarding the approach to the green. Flynn was playing his first ever game of golf, with a set of lady's clubs several sizes too big for him. In topping the ball he sent it straight between the obstacles and up onto the green where he potted it for his first par score. 
David did not bother to search among the trees for his ball, one of about twenty-five which went awol off the tee during the course of the day. Instead, he plopped another one of his diminishing store of balls onto the rough on the other side of the water to tap it onto the green for three, plus four putts before the wretched thing deigned to drop into the hole, for a score of seven. It was that hole (plus some creative counting, plus a whole series of dreadful scores) that sank David to bottom of the pile and enabled Flynn to claim his first adult scalp on a golf course!
However, in the first part of the evening entertainment, both Flynn and David were bested at the bowling by Connor, Flynn's younger brother.
After that the men headed over to Kemby's for Jaime's stag party. Kenyon and David took some time out of the party to show a chap called Rodri how to play 3-player mahjong and introduce him to the mysteries of the mechanical table. Rodri just happened to be passing through Hiroshima as part of a five-month world tour, and just happened to play mahjong back in England. Kodama was shut so we headed over to "Freelando" for a half-hour game consisting of three hands, the last of which was won by Rodri, who then had to rush back to his hostel before the gates shut at midnight.
Back at Kemby's it was time to move upstairs to Lone Ranger bar for cigars and whisky. At some stage Alex arrived and announced that he was opening up Kulcha for the rest of the night, so over there we all went – despite my resolution to fall into a taxi after Kemby's… Still, at least when I did finally get a taxi I didn't fall out of it as did Jaime's brother-in-law out of his.
We eased into Friday with a bath and sauna at 5pm and a quiet game of mahjong. Noda, Kenyon and David played three games before Jaime joined us for the fourth, with English and American Tim in attendance. 
The game followed recent form, with Noda and Jaime winning, David and Kenyon struggling. At first David looked like he would be the only sinker, but then Kenyon took over and sank swiftly while David managed a last game recovery. 
Jaime's game saw him enjoying some wedding luck and it concluded with an auspicious score of +13, his "lucky" number.
Noda +26, +21, +78, -27 = +98
Jaime –, –, –, +13 = +13
===
David -36, -20, -7, +35 = -28
Kenyon +10, -1, -71, -21 = -83
It had been hoped that Neil would be in town in time to play a game or two, but his arrival was delayed and by the time he got here the players had all agreed that an early night would be good and left when Noda did.
Finally, here is a pic of Jaime and Sawako on their way back down the aisle of the open-plan wedding chapel at the Rihga Royal on Saturday 16th Feb. Congratulations!
Jaime and Sawako's wedding, Rihga Royal Hotel, Hiroshima