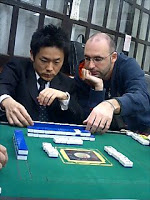 Nobuhiro spent his free last week boning up on the rules of mahjong. He joined the four of us at Kodama midway through the evening. 
Midway. Hmm, an apposite allusion considering how the evening went for the Poor Little Cypriot. His aircraft scored some early hits, but unfortunately, his aircraft carriers were all sunk, and one of Kenyon's went down too. Noda went on a huge Oya-run in the second game, and Jaime, avoiding that assault, came in second on +45! Second! on +45!! At the end of the carnage TWO Yakitori tesserae were still sat on the table top – The Poor Little Cypriot's and the Young American's. 
The second game was the decisive game of the evening, but Jaime went on to win the third and fourth and gained a clear lead over Noda both for the evening and on the Grand Accumulated Results Table (+160 against +106).
We agreed to play a practice game to get Nobuhiro started. The game would not count on the GAR Table and there would be no exchange of shekels.
Kenyon and David therefore decided to adopt an all out offensive strategy, reasoning that it would probably lead to disaster, but best to get the bad luck over and done with at this stage and be ready for the turn of the tide in the fourth game! 
Nobuhiro had some of the best beginner's luck ever and won three or four hands on the trot, so David and Kenyon were quite happy with the way things were unfolding.
Then, a bit later on, in the third or fourth hand of his tenureship of the Oya, David had collected Shosangen and was Tenpai. Kenyon, seeing one Chun on the table threw the other and was surprised when David went out with Daisangen! As you can see from the photo, Kenyon has just handed David a large number of score sticks, yet it is Kenyon who has the smile on his face and David who looks pained to have gone out on Daisangen in a game that doesn't count on the score card!
Nobu did not fair too badly in the final game of the evening that got him onto the scorecard. He finished on -7, which puts him above both Kenyon (-19) and David (-30), oh and Ray too (-210)!!