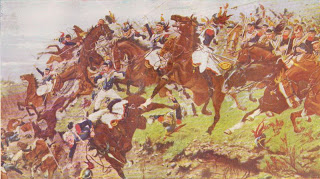 Suffering from indigestion during a crucial portion of the afternoon of 18th June 1815, the Upstart Emperor of the French removed himself from the field of battle to seek relief by lying down in a barn. I don't know if Jaime spent the evening lying down in a barn but nevertheless, he was not on the field of battle during the operations that I now propose to relate.
Kenyon, the Marshal Ney of tonight's operations, sent his cavalry galloping forward on two successful charges before being hit by enfilading fire. He had gained the top of the ridge (+57,000 points) but, unable to reign-in, he fell into a sunken road and suffered many losses (26,000 points to David in one hand of the third game was just the beginning of his woes) and was ignominiously run through by a yakitori pikestaff.

The Grouchy of the evening, Hide, scored a notable victory (Wavre, +40,000 points) that proved to be hollow as he was a late-starter who failed to march to the sound of the guns and found himself thereafter in constant retreat.
Seeing Ney's cavalry flailing around and getting into increasingly dire straits, and with Ney himself proclaiming,
"Je ne have any freakin' idee pas que je dois freakin' faire",the Middle Guard under the command of Davide took the initiative began to advance over the sodden ground and gained the heights in one swift operation (+90,000 points).
Earlier in the engagement Davide had been unhorsed when his mount tumbled into the mire down Chombo Lane. Remarkably, a similar mishap had delayed Colonel Noda, commander of the Old Guard, from getting underway. However, once the Middle Guard had secured the upper ground the Old Guard began to move forward to stabilize the line (+78,000 points) as marshall Ney's forces gallopped down the hill in full retreat.
Once Ney had reached the very bottom he managed to rally his troops and mount a final charge as evening gave way to night (+48,000 points).
David -35,* -18, +90, -2, -3, +1 = +33
Noda -3, -1,* -20, -5, +78, -21 = +28
===
Kenyon +38, +19, -70,** -33, -14, +43 = -17
Hide –, –, –, +40, -61, -23 = -44
* Chombo
David Hurley
japanese-mahjong.com
japanese-games-shop.com