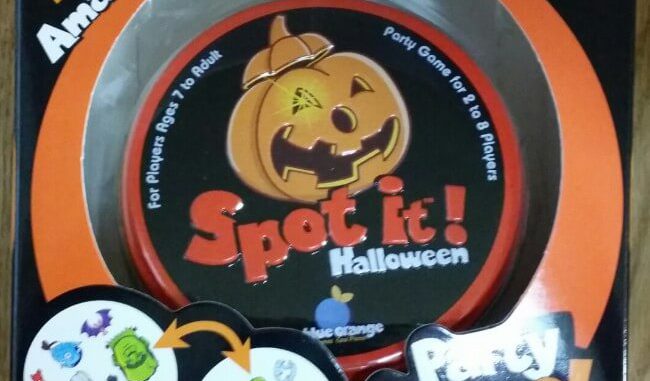 For the last few years, every time October comes around I start playing Halloween Spot It! with some of my English students.
Then, as soon as it's All Saints Day, I put away Halloween Spot It! for another year. Those students who have been with me long enough always laugh when they see the Halloween Spot It tin again, and then struggle to remember all the names of the spooky objects on the cards again.
What is Spot It!?
Halloween Spot It! is the Halloween version of a fun card game called Spot It, manufactured by Blue Orange Games.
Here's a Blue Orange video that explains how to play the standard Spot It! game:
Spot It! is easy to learn and fast to play. A Spot It! set consists of 55 cards. Every card has a series of pictures on it. The pictures vary in size from card to card. Every card has ONE and only one picture that matches with one of the pictures on each other card. All you have to do is find the matching symbol on two or more cards as quickly as you can before any of the other players do.
In every game of Spot It! the aim is to collect the most OR the fewest number of cards.
Five Ways To Play Spot It!
There are five ways to play spot it! (they must have thought of Triplet after they made the video!):
The Tower – find the matching symbol between the card on the top of the pile and your card. Grab the card!
The Well – find the matching symbol and throw your card onto the well!
Hot Potatoes – dump your card on somebody else's as soon as you see the matching image!
Poisoned Gift – move cards from the central pile onto other people's piles as soon as you see the matching pair.
Triplet – find three matching images from a grid of nine cards. Replace the cards from the deck until there are no more cards left.
What Is Halloween Spot It!?
Halloween Spot It! is simply the Halloween version Spot It! with spooky Halloween-related pictures replacing the standard Spot It! ones. (There's also a Christmas version, but it's not so good as there are fewer cards with fewer images, and the cards are smaller.)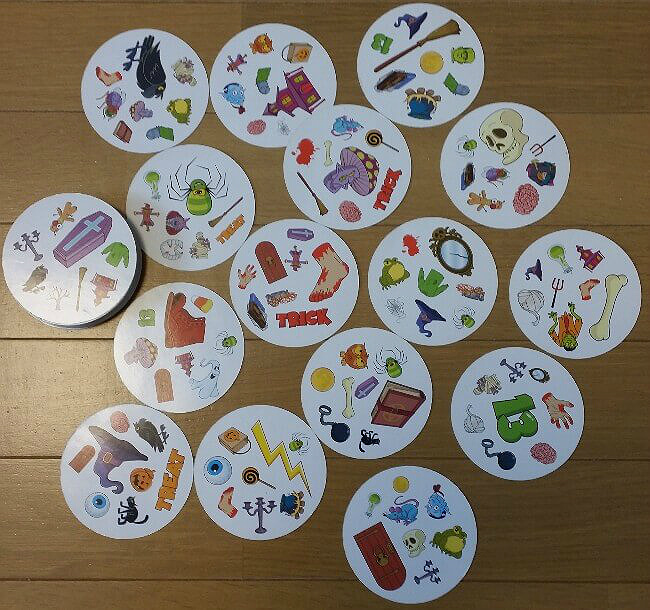 Here's a list of the images that are on the Halloween Spot It! with a comparison chart where British English names differ from American English:
Ball and Chain
Bat
Black Cat
Blood
Bloody Foot
Bloody Hand
Bone
Boo!
Brain
Broom (USA) – Broomstick (UK)
Candelabra
Candy (USA) – Sweets (UK)
Candy Corn
Cauldron
Chocolate
Cobweb
Coffin
Crow
Dead Tree
Dungeon Door
Evil Mushroom (USA) – Toadstool (UK)
Eyeball
Fangs
Fly
Frankenstein
Full Moon
Garlic
Ghost
Goodie Bag
Grave
Haunted House
Headless Horseman
Jack-o'-Lantern
Lightning Bolt
Lollipop
Magic Mirror
Mummy
Old Boot
Owl
Pitchfork
Rat
Scarecrow
Skull
Snake
Spell Book
Spider
Test Tube
Thirteen
Toad
Torn Sweater
Treat
Trick
Vampire
Voodoo Doll
Werewolf
Witch Hat (USA) – Witch's Hat (UK)
Zombie
Spot It! is an excellent ice-breaker game and works well to lift the atmosphere in English language classes. It works well with children and adults.
It's also a good way to get more reticent students to start to speak English in order to try and win the game.
If you haven't played Spot It! before, I highly recommend it. Both the standard Spot It! game and Halloween Spot It! are available on Amazon.com and other online stores.
David Hurley