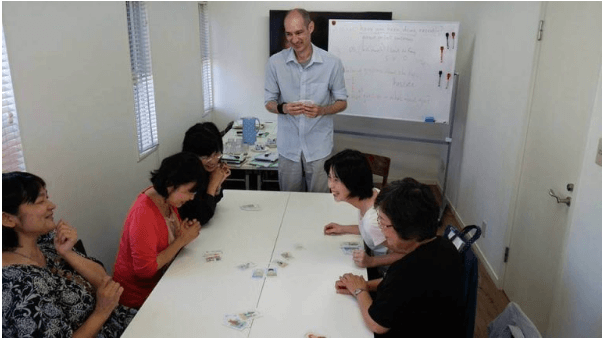 Here we are at Okeiko House in the middle of a Tuesday morning "Eikaiwa Cafe" class. (Eikaiwa = 英会話  = English Conversation.)
We are playing a game of karuta using a deck of English vocabulary cards from the excellent "Let's Go" children's English study series.
The class began with rotating-pair conversations around the topic of "What have you been doing recently?"
Students had to give a brief report to each other and then ask a couple of questions before switching roles by asking, "What about you?"
After that we played English karuta.
When the game was over, students were asked to choose three of cards they had won and make up a short story and tell it to the group.
One of the stories went like this:
I typed a letter to a movie company to ask for a job. The secretary telephoned me and offered me the job. I became a movie star!
After that we finished with a couple of games of Spot It!
(also known as Dobble), which I highly recommend as a fast way to get your brain working and keep it young! (I will write a review of Spot It! in the near future… [Well, it took me four years to fulfill this promise – and the link takes you to a review of the Halloween version of Spot it! DH])
Between any two cards there is always one and only one matching symbol. Spot it fast to win!
DH