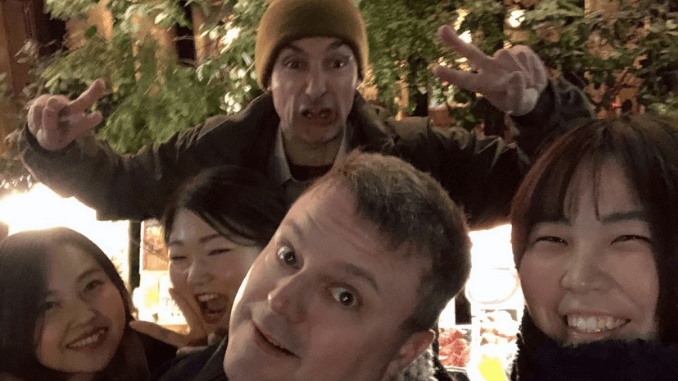 Last night I hopped onto the tram and headed into town to meet a couple of other teachers and a bunch of our former students who all graduated from Hiroshima College of Foreign Languages in March 2018.
We made up a party of 14 people. The students had attended either my English Communication classes (three times a week) or my English Listening class (once a week).
A Class Full of "Characters"
As a teacher, some classes stand out in your memory as being "special," populated by a lively bunch of "characters" and a lot of fun to teach. That was the case with my communication class. Here's just one example of some of the crazy stuff we got up to; an end-of-term "Pie Face" challenge 🙂 :
All You Can Eat And Drink…
Last night's party was an "all you can eat and drink for two hours for ¥3,100" deal at a restaurant in Fukuromachi called Nanaya.
Here's the whole gang as the party gets underway: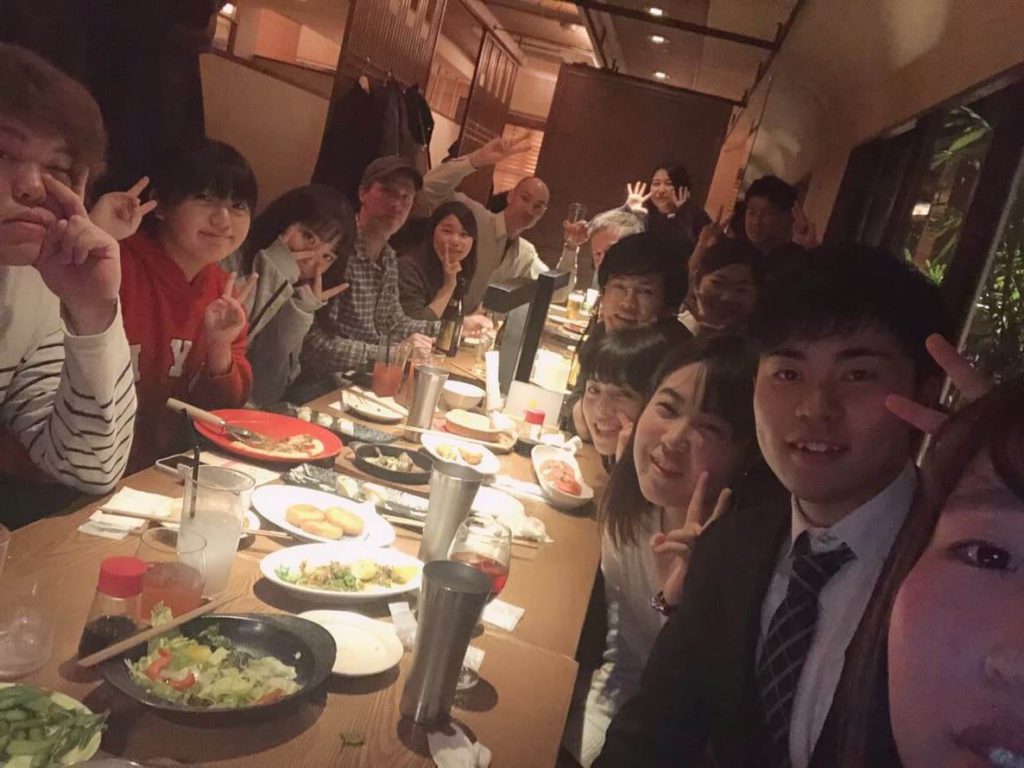 And here is party organiser Show Kobayashi, Maria, Yours Truly, and Masaya (who's now studying economics at Keizai Daigaku, regrets not studying so hard at Gaigo [LOL!], and will one day be a very rich guy):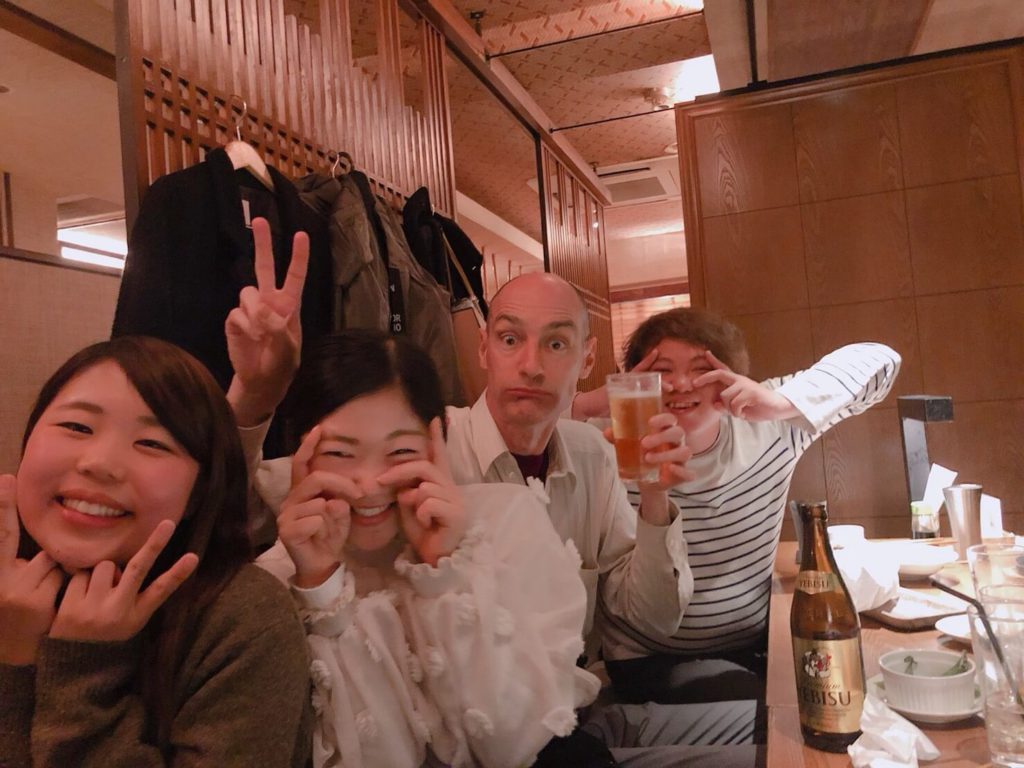 Later on we were joined by another former class member, Aya. She took selfie shots with each of us. I had a good chat with Aoto, the cool guy behind my beer glass, about blogging and Internet marketing. Oh, also about fashion and how the price tag of his new jacket has several more zeroes on it than I paid for my old jacket a, ahem, while ago. 😉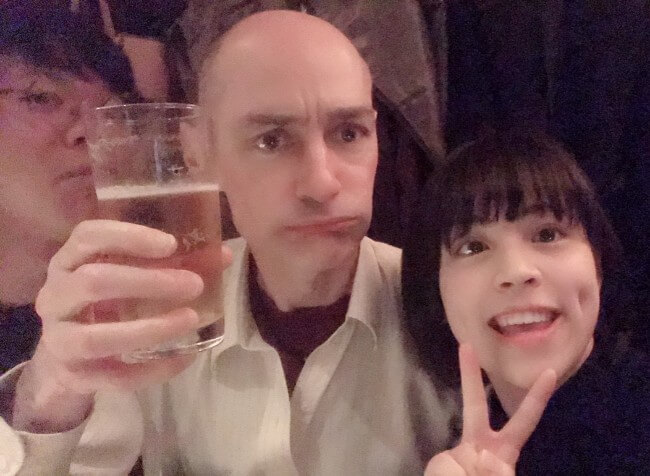 Two hours later, the party continues in the street with Brendan, Suzuka, Miho, Miku, DH, Maria, and Misuzu at the front.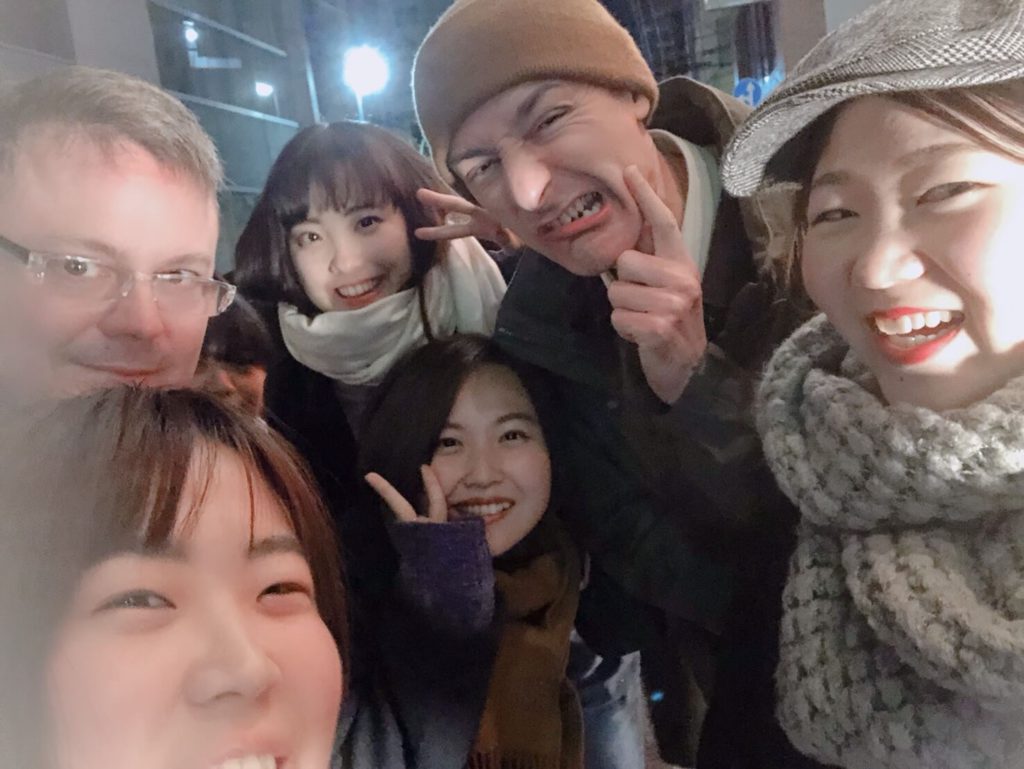 Several of us (David W, Show, Miku, Aoto, Masaya) went to Popeye to play table tennis. We were joined by "crazy" Kentaro (who lost the Pie Face game in the video above).
Dixie Chicken at MAC
Sometime around 2am the party broke up and I popped into Mac bar for a quick nightcap. (NOT MacDonalds, folks! – although I was thinking about going there for an egg-Mcmuffin and coffee for breakfast at 4am…)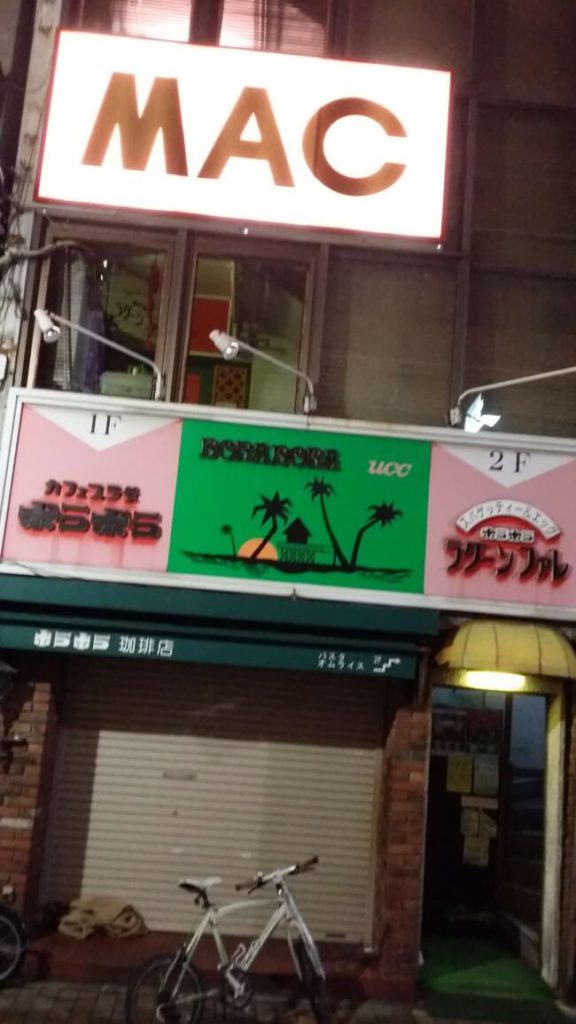 For anybody who remembers the "old" Mac bar near Shintenji Koen, and the "original" Mac bar close to Chuo-dori, across the road from the Suntory building, the "new" Mac bar is just around the corner from the Kokusai hotel. (For an obituary of Mac himself see this blog post by Stew Magnuson.)
I surprised Boku the bar tender by requesting some Little Feat. He said I was the first English guy to have requested Little Feat, which surprised me in turn. He told me he saw Little Feat play a few years ago. We listened to a much more recent version of Dixie Chicken but here is the original version, the first track of the eponymous album:
And here are the lyrics:
I've seen the bright lights of Memphis
And the Commodore Hotel
And underneath a street lamp, I met a southern belle
Oh, she took me to the river, where she cast her spell
And in that southern moonlight, she sang this song so well

If you'll be my Dixie chicken I'll be your Tennessee lamb
And we can walk together down in Dixieland
Down in Dixieland

Well, we made all the hotspots, my money flowed like wine
Then the lowdown southern whiskey, yea, began to fog my mind
And I don't remember church bells or the money I put down
On the white picket fence and boardwalk
On the house at the end of town
Oh, but boy do I remember the strain of her refrain
And the nights we spent together
And the way she called my name

If you'll be my Dixie chicken I'll be your Tennessee lamb
And we can walk together down in Dixieland
Down in Dixieland

Many years since she ran away
Guess that guitar player sure could play
She always liked to sing along
She's always handy with a song
But then one night in the lobby, yea, of the Commodore Hotel
I chanced to meet a bartender who said he knew her well
And as he handed me a drink he began to hum a song
And all the boys there, at the bar, began to sing along

If you'll be my Dixie chicken I'll be your Tennessee lamb
And we can walk together down in Dixieland
Down in Dixieland, down in Dixieland

Lowell George and Fred Martin
At around 4am I hopped into a taxi and headed for home.
DH