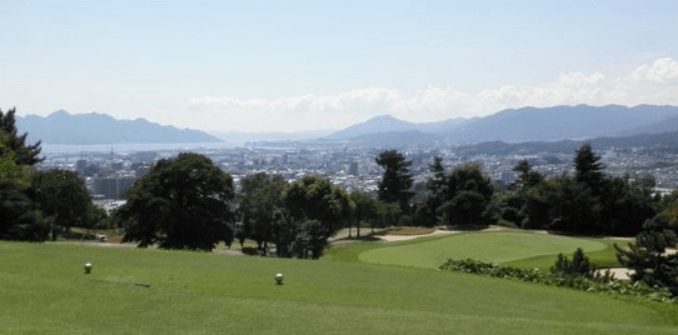 Now that September is here, the summer mahjong recess is officially over and was marked by a sweltering day of golf at Hiroshima Golf Club and an eventful evening of mahjong at Kodama mahjong parlour…
It's been several months since I last handled a golf club, except for a few ten minute bashes at the indoor place at the back of the Xebio sports shop at Shoko Centre. There are several advantages to practising there. For one thing, you don't have to take your clubs. Another advantage is that you are the only one inside the practice area. A further advantage is that one practice session only lasts a few minutes. You put 300 yen into a slot and blast your balls at a screen while a computerised thingummy works out the distance and direction that your ball supposedly went and you get to see a tracer-fire line arching gracefully down a fairway on the screen.
Anyway, apart from a few of those sessions, it has been several months since I last picked up one of MY golf clubs (er, or the ones Jaime gave me when he got a new set)… but I had agreed to play golf with Jaime at the Hiroshima Golf Club on Friday. So Thursday saw me back at Xebio getting in a bit of practice blasting balls at the screen. I tried out a fairway wood and was so impressed with the results that I promptly bought a second-hand one for just under 10,000 yen; a no. 3, 40 cm, 22 degrees loft. Perfect for getting a duffer's ball up the fairway, and for cutting down on the number of clubs in the bag.
My bag now consists of just seven clubs:
1 x driver: This produces amazing banana shots and is sometimes useful for getting balls from the tee to the green on par 3 holes – and over valleys (see below)…
1 x fairway wood: Drives nice and straight on the fairway, if only I could remember to aim for the flag… Also good for getting my ball out of flattish bunkers…
1 x no. 6 iron: A doubtful club that sometimes helps me out of the rough, and sometimes doesn't.
1 x no. 7, 8 & 9: My trusty irons for the shorter game, my relative strong point…
1 x P/S: A most necessary club for deep bunkers and other trying situations. I have discarded the pitching wedge and the sand wedge in favour of the combi. In golf, as in life, fewer is often wiser. Ask Tiger.
Hiroshima Golf Club is easy to get to. Just hop on the tram for two stops and catch a taxi up the hill. Our tee-off time was a civilized 10:15 and there was nobody behind us. Perfect!
Hiroshima Golf Club opened as a 9-hole course in 1952. Today it is a challenging 18-hole hill-top course with fine views of western Hiroshima and the sea and islands beyond.


It was a sweltering day, with temperatures well into the mid-30s centigrade. We survived on bottles of Aquarius Sparkling, "a low-calorie isotonic sports drink. It contains amino acid BCAA, citric acid and D-ribose, and uses a technology called 'Bubble Smoother' from Soda Kouryou to suppress the fizz."
None the less, a cleansing beer at the refreshment huts after the 5th and 14th holes, and a beer at lunch, were also necessary to keep the spirits up and the tension down… Lunch – a pretty good yakiniku beef set.
As for the golf, well, it had its ups and downs. The new fairway wood showed promise, but, as I say, it was a difficult course! Hopes of getting round without getting into double figures on any hold were dashed at the third, where my ball insisted on taking the difficult route along the right, through the trees and bunkers…
There were a couple of inspirational moments, one of which Jaime captured on video. The somewhat eccentric swing was fully justified by the result! A workman was lurking under the trees by the footbridge so I aimed at him rather than at the fairway and pulled off a fine banana-shot, causing the ball to land on the edge of the fairway.
Here's a photo of Jaime at the top of his swing: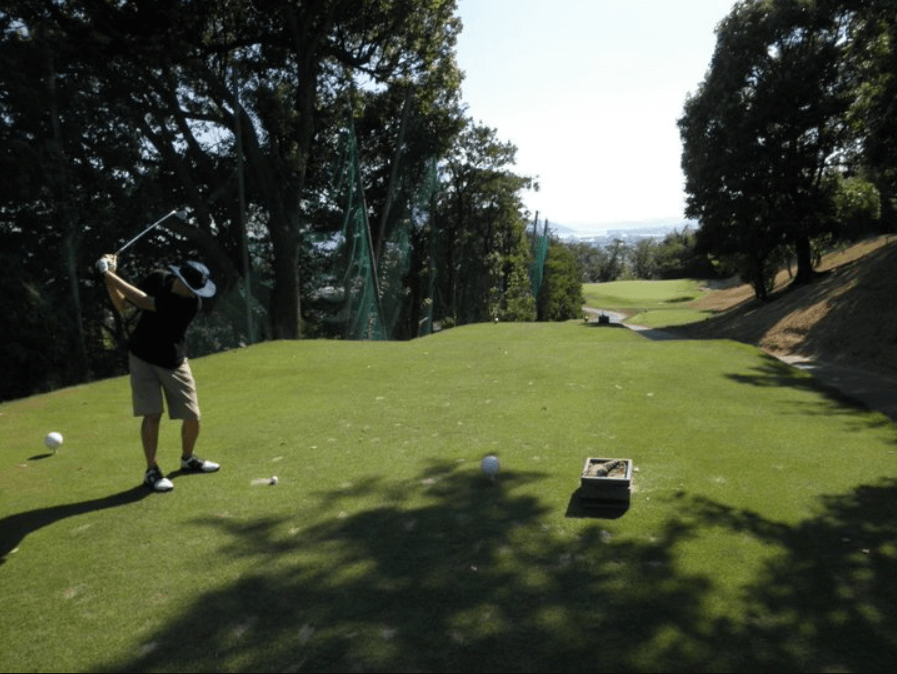 That evening we met up at The Shack as Kemby's is currently being refurbished under new ownership. If what I hear is right, the music stage is to be removed and the kitchen extended, with a big window put in so that you can see the chefs in action.
Noda and Nobu were waiting for us when we arrived at Kodama. We were on the table in the far right corner – at least we were until the machine swallowed two of the tiles. There then followed a twenty minute session in which we tipped the table back and forth while Jaime worked with a screwdriver and a pair of large tweezers to locate and pull out the two tiles. We then switched table while Mama-san continued in her attempts to locate a phantom "third tile" with the help of Noda until he was called back to the game.
Ah, the game.
There was only one big loser tonight, and that, for a change, was Noda. He finished bottom in the first game, which Jaime won. Then in the second game he ended up owing Nobu 40,000 points. This was put down to the fact that Nobu had been "studying" and came to the parlour armed with TWO mahjong books (although it emerged that he had bought one of them only today).
Meanwhile, David plodded through the middle, conceding little (except a 5-bamboo to Noda on a single tile wait) and taking little, hoping to the last to come out ahead, especially as he was last Oya in the second game, but Jaime pipped him to the finish so he had to make do with -2.
Nobu's good form wobbled a bit in the second game when he committed two Riichi-chombo errors in a row by failing to see everything he was waiting for – including a discarded tile!
Tonight's result certainly helped to "tighten up" the game to almost 1,000 points between Noda and Nobu. Jaime's winning streak continues and he is now in second place, and he managed to achieve tonights win in spite of getting distracted by news about the demise of David English House school and Facebook photos of its most beautiful former employee…
Nobu -6, +72* = +66
Jaime +31, +20 = +51
===
David +3, -5 = -2
Noda -28, -87 = -105