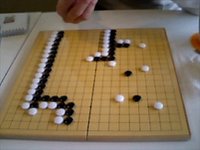 There were only three players in the mahjong parlour Friday evening, Noda, David and Ray. Mama was complaining about the unpredictability of business these days. Mind you, all three of us ordered grub and Noda and David drank their way through the evening so she did ok out of us.
Tonight, however, the luck was with the sober Irish. Ray was the only winner in three out of six games. Details have become a little bit blurred in the Poor Little Cypriot's memory due partly to the intake of alcohol that night, the gap between then and now and the rather larger intake of booze midweek…
What I do remember is that while going "Ron" and "Tsumo" quite a lot, Ray expatiated upon the inventive speeches that the dropouts at his school produced for a speech contest, speeches which were ruled out for nomination despite their close approximation to spoken native English patterns:
Cinderella went to the ball. Suddenly it was twelve o'clock.

"Oh shit."
and, from an Irvine Welsh fan:
"Choose Life. Choose a job. Choose a career. Choose a family. Choose a fucking big television, choose washing machines, cars, compact disc players and electrical tin openers…"
The Cinderella story had Old Noda chuckling away and perhaps it was that that caused him to lose the plot for the first time this year… Noda lost games 1-4 and he ended up with his Yakitori stuck on the table at the end of the fourth game. By now Noda was over 100 points into minus territory. Actually, I remember now, it was not so much Cinderalla's "shit" that affected him as the booze. Noda had brought his hip flask with him tonight and was liberally adding its contents to the Japanese alcohol that he was drinking – shochu as a mixer for whiskey! Wery good Mr Noda.
Mrs Noda is away from home at the moment and Mr Noda is having to cope all by himself for a while. This appears to be proving difficult. He ran himself a bath and after about 20 minutes or so he got undressed and strolled into the bathroom only to find that he had not put the plug in.
At some point in the evening Ray went out on Suuanko and he reached a peak of +127. But then in the last two games Noda, fired up perhaps by the potent brew he was imbibing, recovered and came top twice to haul himself back to a less disastrous final score of -38. That put him one point ahead of the Poor Little Cypriot, but Noda had to pay out a bit more cash because of his Yakitori.
For Ray it was a big step in the right direction as he overtook David in the Grand Accumulated Results Table, but there are still only two players in the black this year, Noda (still top) and Jaime.
Here are the figures for Friday's game (24th Feb):
Ray: +37, +20, -11, +81, -3, -47 = +77
===
Noda: -22, -7, -31, -42**, +29, +35 = -38
David: -15, -13, +42, -39, -26, +12 = -39

The next day saw The PLC and Old Ardle meet up again in the BFC for a light lunch and another round of igo.
Despite previous affirmations to the effect that there will be no more wall building Old Ardle's preference for bricklaying immediately reasserted itself and the PLC (white) who was not going to have any of that gammon simply extended his line.
Thou wall, O wall! O sweet and lovely wall!
Show me thy chink to blink through with mine eyne.
Old Ardle captured one abandoned piece but then suffered a laspe of vision as a small outpost of his own, unprotected by the wall was surrounded and extirpated.
O wicked wall! through whom I see no bliss;
Curs'd be thy stones for thus deceiving me!
The game is to be saved for the duration of Old Ardle's immanent sojourn in Australia.
The day after playing igo, however, we met up again over at the Ardle's Nest to kick off our latest project which is called A-Bomb City, podcasting to the world from the world's first ABC. We aimed to make two editions of the podcast which will be launched after Old Ardle returns from Australia… With the studio set up and everything apparently ready we were hit by a bout of nerves and giggles and made several false starts and resorted to the bottle, which did the trick…
Eventually we got going and got more confident as we went on. But just as we thought we had finished we discovered that my microphone was set too low after Ardle had adjusted it to compensate for my booming voice but had not readjusted it when I readjusted my own volume! In the end though, after redoing the second one we agreed that it was much better although one of us did go on a bit too much about the pros and cons of the bomb…
The 28th of February was Shrove Tuesday this year and so I did my first bit of cooking in the new PLC residence: five pancakes. The first one, for the Mrs, was too thick, with the wrong proportion of egg to flour and burnt on the new IH cooker. The next one, for me, was a bit better, the third one for the Mrs, once again suffered from a surfeit of egg so resembled an omlette more than a pancake.
Little E then piped up and said she wanted one and that one turned out quite cute as the mixture hit the pan and formed a face framed by "long hair" with blueberry eyes and nose added for effect – of a sort.
The last one, for me, was perfect! Correct mixture, nice thin spread over the pan, cooked just right, not screwed up when it came to turning it over. Lashings of lemon and blueberry jam slapped on top, then rolled up and down the hatch. Excellent! That is my cooking over and done with for another year or so.
Now, this year the PLC is going on a Lenten fast again – a booze-free six weeks. However, as Ash Wednesday happened to fall on St David's Day, the PLC's onomastico, and as David Rhea, a former colleague at Clang Education Centre a few years ago, was back in town, we decided to feast rather than to fast.
1. The feasting kicked off with an Ash Wednesday lunch at Regalio's with Old Ardle (again) and Waterboy. Despite OA mumbling about the Italian primo piatto being Japanese bits and pieces, the meal went down a treat and the pizza was thin and one of the best we've had in Hiloshima.
2. We then wandered over to J Cafe to lounge in a couple of the red sofas and admire the balcony. Tom Waits' album Bone Machine was mentioned with approval by the Waterboy. Conversation turned to Chiron the Centaur; particularly what it means to be British today, the necessity of tolerance and the necessity of defining -or redefining – its limits, and whether or not there was an International Jewish Conspiracy out to get David Irving and Ken Livingstone. Even if there were, and despite Chiron's affection for Eliot's dictum (borrowed from Joyce, but taken more seriously) that a culture be defined as "the same people in the same place," the contribution of freethinking Jewry to British culture was generally approved of (pace Eliot), Clement Freud was acclaimed by all present to be a jolly good egg and while on the subject of freethinking Jewry, American experimental psychologist Steven Pinker's work ab ovum was also cited with approval.
The Waterboy also wanted to know what these here gadgets called wireless tefelones were all about and he was encouraged by the other members to measure his own resistance to the modern plague of self-censorship by starting a blog of his own…
3. Waterboy and the PLC wandered up to Kemby's to meet David Rhea and his girlfriend Fuki, and were joined by the SS and Mrs SS.
4. The PLC, and the two couples moved on to an izakaya for their Ash Wednesday Supper. The SS impressed everybody with his recent reading programme. A certain French fellow named Fauckall or something was wheeled out for an airing, swiftly followed by Eisler and her Chalice and the Blade.
5. PLC, David R and Fuki headed towards Kulcha but the PLC, remembering the range of whiskys and the cigars and comfortable armchairs at D Bar suggested that the party go there, where they were joined by the SS a bit later. The intention was to have a look at the comparative merits of Bourbon and Scotch and then head over to Kulcha, but we got rather carried away with our project and covered in cigar ash and wreathed in smoke as SS and PLC puffed away and huffed and puffed about rights of sojourners in strange lands and got tangled up in a controversy over the support for British troops in Iraq irrespective of whether or not one supports their being there!
I sent myself an e-mail so that I would not forget the Bourbons that David had introduced me to:
knob creek, bards town ky. bookers sbb.
I hope that is clear. The Bourbon was followed up with a 30yo Laphroaig.
6. David and David popped into Lawsons for a pack of beer to polish off back at David's room in the Parkside Hotel opposite Kodama jansou. The PLC finished his cigar but the drinking ground to a halt somewhere around 4am and he stumbled off and fell into a taxi…
Thursday was Hell, but no appointments were missed and now that it is Friday evening again we have just about recovered sufficiently to head off into town to play mahjong…
David Hurley
japanese-mahjong.com
japanese-games-shop.com