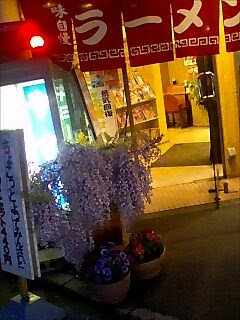 As my afternoon and evening classes had been cancelled I was able to pop back to the homestead where I thought I might indulge in a quiet afternoon nap and woke up about four hours later. Thus refreshed I hopped onto the tram into town and hopped off at Kamiyacho Nishi, wherefrom I wended my way towards Bizenya to set myself up for the evening with the old Yasai Ramen and Gyouza combination.
I don't know much about the people who run Bizenya, but from what I gather, they are fond of art and gardening since the place often has a mini exhibition of pictures on the side wall, and different potted plants at the entrance.
As I approached the threshold, my eye was drawn by what I took to be some cut wisteria branches in full bloom outside the door. On further inspection it turned out that I was looking at an ornamental wisteria plant, uncut, potted and very much in the land of the living. I didn't know that you could get full sized blossom off a miniature plant, but it seems that you can and that the Japanese go in for a bit of wisteria bonsai on the side.
My game this evening had something of the quality of the ornamental wisteria about it. With an unpromising start, such as might lead one to suppose the Wisteria Minima Davida was dead. But in the middle of the evening there were signs of life and something resembling a recovery came into blossom. I am not sure how high this particular wisteria can grow or whether its vines will have anything more than a vain hope to cling on to.
Meanwhile, the great Wisteria Senexa Nodaria spread and blossomed rampantly across the evening, casting a shade on the falling petals of the weeping cherry, Cerasus Infortunius Iacobus
The result means that for the first time in about six months(?) David is off the bottom. Noda, however, is back in the black so we wonder how much longer the top of table will be the preserve of foreign plant species…
Noda +33, -22, +70, +3 = +84
David -45, +84, -13, +32 = +58
===
Jaime +12, -62, -57, -35 = -142
During the course of the evening Jaime asked me if I had seen the youtube video of Susan Boyle, a contestant in the Britain's Got Talent show, who shocked the judges with her performance…
Of course, I had not seen it, but when I got home I checked it out… Fantastic!
Here's a link to the show.
Japanese-Mahjong.com