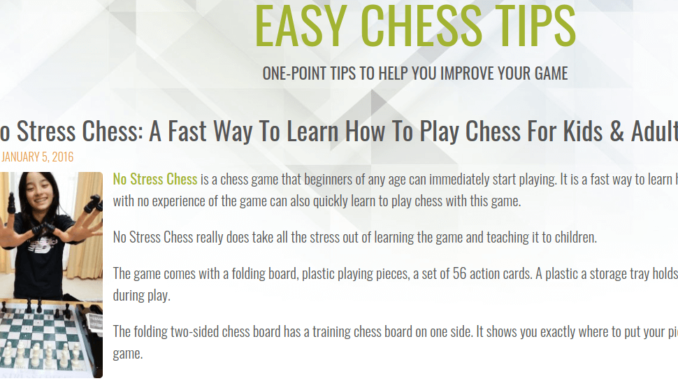 Last month I launched a new chess training blog called easychesstips.com as a platform where I can turn my own engagement with chess into useful tips for beginners (who at least know HOW to play if not how to win) as well as more experienced elementary-to-intermediate players.
Since my chess rating on GameKnot.com has been fluctuating between the 1500s and lower 1700s over the last couple of years, it might be reasonable to wonder whether I am really qualified to offer chess tips.
My background, however, is in teaching so I have a lot of experience of training which I can use to create blog posts that help my target audience (lower rated players) to improve one step at a time.
The problem with a lot of chess training literature is that it tends to jump too far down the analytical rabbit-hole for many lower-rated players to follow without getting lost, perhaps because most chess writers are chess-players and not teachers.
What I am hoping to offer, are a series of light-hearted one-point insights into chess based on games I have played, both those I have won and those I have lost.
The tips I offer might not help much against class A and higher-rated players, but they could prove useful in pub-chess and other casual encounters over the chess board.
My aim is to make reading about chess an entertaining as well as educational experience for casual players who'd like to pick up a few tips about how to improve their game and where to go to get more in-depth advice from truly expert players.
In a way, EasyChessTips.com is intended to be a diary of my progress with chess as I also try to improve my ranking.
It is also an experiment in creating a blog from scratch and seeing if I can successfully monetize it using the excellent training I am receiving from the Wealthy Affiliate niche blog training site.
My idea was to follow their training to the letter by working with a new blog, and since I play quite a lot of games on GameKnot as well as a couple of Over The Board games each month, I would always have plenty of material to turn into useful tips and content for my blog.
I will also be reviewing books and chess-related products from time to time as part of the monetization process, working mainly with Amazon and Google Adsense, GameKnot (to earn extended months of free membership) and later on with chess-training affiliate programs.
If starting your own niche blog and turning it into a source of online income is something that you'd like to do, feel free to drop me a line or simply check out Wealthy Affiliate for the excellent training they provide.
I should also add that EasyChessTips.com is hosted on WealthyAffiliate's web-hosting service, SiteRubix, which is included as part of the Premium membership service. (Free members can create free blogs on a SiteRubix subdomain).
David Hurley