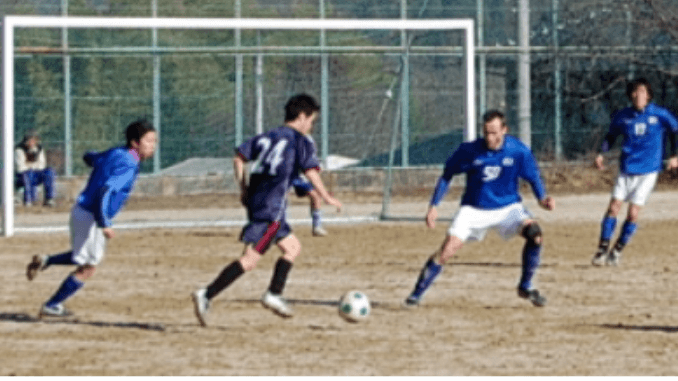 Here are a couple of pics of the last game DEH played. This game took place way out in the countryside of Shiwa on a Sunday lunchtime.
I had been playing poker and over indulging on beer and whiskey the night before… Still, it does appear that I did at least do a little bit of "running" during the fifteen minutes that I managed to last in the first half of the game:

Here I am running back to cover our right as an attack heads up our left…
I had been put "in front of the defence" by a captain who obviously did not trust me enough to put me "in the defence" nor yet place me in midfield or in attack… This led to a short period of "the headless chicken routine" plus one ineffectual nodding on of a goal kick and a few optimistic trots into the opposition penalty box in an attempt to convince the defenders that a serious challenge was upon them.
And all the time the hangover was banging out its relentless rhythm in my head:
"You can't take much more of this… you can't take much more of this…"
The straw which broke the camel's back was actually a gobbet of mud which flew off an opposition boot as the player kicked the ball and hit me squarely in the left bollock. Fortunately we had a young and active substitute so the next time the ball went off I went off as well.
That left Dan as the only old British player on the pitch – holding our end up in the centre of defence. Here is a pic of him doing sterling duty midway through the second half:

The other team was one-nil up until a couple of minutes before half-time. Then they scored a fatal second goal. The ball went between Yuusuke's legs which was hard on him as he had been doing a reasonable job in the absence of our regular goalkeepers.
Just after the action shown in the second photo above, Yuusuke came out of goal and within a couple of minutes of doing that he had scored a goal for us. Unfortunately, however, the other team replied and that was that; another frustrating result which left us thinking that if only we had had our regular goalkeeper, then Yuusuke would have been in the attack throughout the game and "we could have won it" – even with the Oldest Member incapacitated by a hangover, nausea, an aching bollock and a total lack of fitness, oh and skill… yes, I say, we could still have won it!
Now, apart from an upcoming cup game, we have just one more game to play before our fate is sealed…