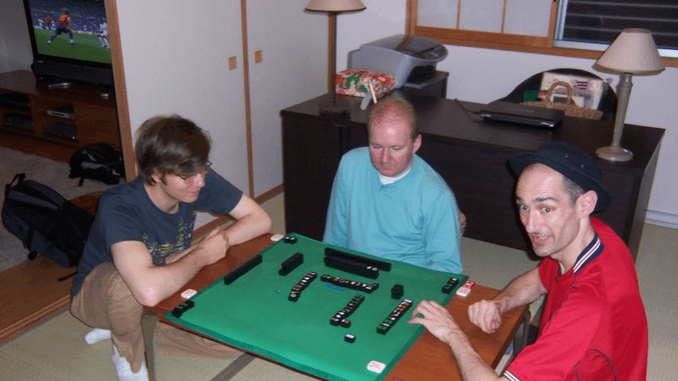 Jaime invited several of his mates up to his pad in Mitaki to watch England play Portugal in the quarter finals of the World Cup, and to play a bit of mahjong. Prior to that we met at the izakaya on the second floor of the building attached to the front of Yokogawa Station.
Seating:
Don, Tim, Jaime
David, Ray, Kenyon
In short, the usual suspects for a house party that involves football and mahjong were present. Everyone was there for the football, Jaime, David, Kenyon and Ray for the mahjong as well. Two England shirts (David, 2002; Jaime, 2006) and one France shirt (Tim, 2004) were in evidence.
Don was upbeat about England's prospects against the Portuguese, as he had been yesterday evening too, and his optimism was quite infectious… despite everything that we know about the managerial decisions leading up to the World Cup and continuing through it, which you can read about over on Jaime's blog .
While on the subject of football, Kenyon revealed that he supported Leeds in the Championship and West Ham in the Premiership, choices which were approved of by David and not disapproved of by Don.
Kenyon then suggested that world groups would be a better idea than the current regional groups in the qualifying stages of the World Cup. Jaime argued in favour of having the top 32 national teams in the competition while Don argued the case for keeping regional qualification so that smaller teams had a chance to appear along with their exotic fans and add that festival jollity to the proceedings that we so much enjoy.
We then adjourned to Fresta to stock up on drinks and snacks and headed up to Mitaki by train (Ray, David, Tim, Kenyon) and bike (Jaime, Don). The pleasant atmosphere of expectation on the platform was augmented by a Suntory "-196 degree" ginger chuhai courtesy of Tim.
Up at Jaime's we reviewed the highlights of the completed quarter final games and tucked into the excellent brandy-filled cheesecake that Sawako had made for us. Dan also turned up to try the cheesecake and watch the game…
Then Jaime got out the black mahjong set which has served him so well hitherto… David, Ray and Kenyon joined him at the table and squinted at the tiles as they played.
However, things did not go according to Jaime's cunning plan as Ray, after a long absence from the mahjong table, swept into an early lead…
Mahjong was adjourned at the beginning of the South round and we all took our places in front of the big screen for the big match…
Well, in case you don't know the rest, click here.
Jaime went out because he could not bear to watch the penalty shoot out. It was a farce. Two Portuguese misses and three Portuguese saves – the first time in a World Cup penalty shoot- out that the goalkeeper has saved three penalties. Mind you, he didn't have to try very hard. Only Hargreaves, the man of the match, displayed anything like professional, or GERMAN confidence. Poor old Carragher scored, but had to retake the penalty because he had not waited for the whistle and – inevitably – his second effort was saved…
We resumed our game of mahjong and Ray finished top on +28 with David creeping into the black on +2. As that result put Ray above Tim on the "Grand Accumulated Results" table he called it a night and retired from the mahjong table to watch the France-Brazil quarter final.
It sounded like a good game. Meanwhile, at the mahjong table David won the second game and Kenyon won the third.
During the third game the mood in the flat turned sour as a certain disgruntled and disappointed England supporter attempted to assert that England had not lost because the game was a draw… This opinion was disputed by several other guests who attempted to point out that penalty shoot-outs have to be considered part of the game in the knock-out stages and that a failure to perform in the shoot out amounts to a defeat. When he resorted to name-calling it did me the kind of favour that a slap in the face or a bucket of cold water can do: It woke me up and alerted me to the fact that I had been drawn into one of those arid "either-or" or "all-or-nothing" disputes that are so seductive to our captious friend,
Bent resolutely on wringing lilies from the acorn;
Capaneus; trout for factitious bait…
I returned my attention, therefore, to the mahjong table before Kenyon had quite run away with the game and left Tim to take up the baton and run with it. We were later berated by him for not having backed him up. Tim had amused us earlier by picking up on a generalization made by our Capaneus which was large enough to contain a contradiction with a more particular point which he had made earlier, and which Tim had noted and filed away for future reference (i.e. now, at the moment when the general observation contradicted the particular point). Capaneus took that in good part and told Tim not to be so literal (a rebuke which, I doubt not, has also been noted and stored away for the future)…
At some stage during the France-Brazil game Tim nearly brought the roof down with his whoops and yells when France scored! We were all pretty happy with that result – the goal I mean… Jaime was less happy with the whoops and yells…
We called it a night at the mahjong table after three games and the results were:
David +2, +32, -6 = +28
Ray +26, –, — = +26
Kenyon -2, -4, +19 = +13
===
Jaime -26, -28, -13 = -67
The new quarter began with a change of fortune, small but welcome, for David.
Everybody except David had left Jaime's around 6:30am. After an hour's snooze D&J had to get up and go and play – or attempt to play – football at Higashi Yano, where the game kicked off at 9:30.
Despite the heavy rain of the past couple of days, the game had not been postponed, and the morning had brightened up so now we resorted to hoping that the Japanese captain would have rounded up about 12 or 13 other players so that we would be able to act as substitutes and snooze our way through the game.
We arrived at Kaita-ichi at about ten past eight and bumped into a group of Brazilians among whom we were pleased to recognize Arturo with whom we shook hands and exchanged commiserations. His mob were off to play "footsal" – indoor football. One of the larger members of his team asked us "France?" and his face darkened and he boxed the air when we said "Oh yes," and chuckled…
We took our leave and headed off to seek out the football ground on foot. Despite our doubts, Jaime led us to it and we got in about fifty minutes kip on a couple of old benches before the rest of our team – if you can call it such – arrived…
"How many players?"
"Nine or ten."
"Including us?"
"Yes."
Ah, by "Nine or ten," Yuusuke, our captain, meant, of course, "nine." Most of the seven Japanese who had turned up had been drinking all night, and most of those who had not turned up had been drinking all night… But wait a minute, if two old and unfit foreigners can stay up all night drinking, playing mahjong, watching footie on tv and arguing with their mates, and still make it to a match despite getting in barely an hour's sleep, then why can't these 19 and 20 year olds? In the good old days of Inter Milang, 1992-1997, hangovers were worn as badges of honour on the field of battle.
Our goalkeeper was among the missing miscreants and so I opted to go in goal. Within five minutes we were two-nil down. By half time, despite a number of blocks and saves, the score stood at 6-0.
Jaime and I swapped places in the second half and there was a slight improvement. We ended the "game" 11-0 down. Despite the result, several of us gave it all we had – which was not a lot, but we did keep on battling and attempted to defend as much as possible and even won a corner towards the end of the second half… All to no avail.
This season has been a disaster. We lost the first game 1-0 with a full team, but with little in the way of crosses. The next game was forfeited – which means we automatically lose it 3-0. And now, this our third game, five or six of our team go missing and we lose 11-0 to a team that we beat 4-1 last season. Yuusuke came over to apologize to us at the end of the game. The point we made to him was that team members may certainly drink all night, but they should come to the game – or if there are not enough players then cancel the game. I suspect he may have been afraid of cancelling a second game in a row.
It looks increasingly like demotion to "C" division next season – that is if the team survives…
I headed for Yamato no Yu after the game and snoozed on the tatami mats in the cafeteria until I was joined by Mrs HH and Miss ELH and then soaked my aching limbs in the hot baths while Miss ELH tipped bowls of hot water over my head and experimented with tasting the salt water (etc) of the outdoor bath…
Despite the trials and tribulations of these events, I must say that I quite enjoyed them, masochist that I apparently am.