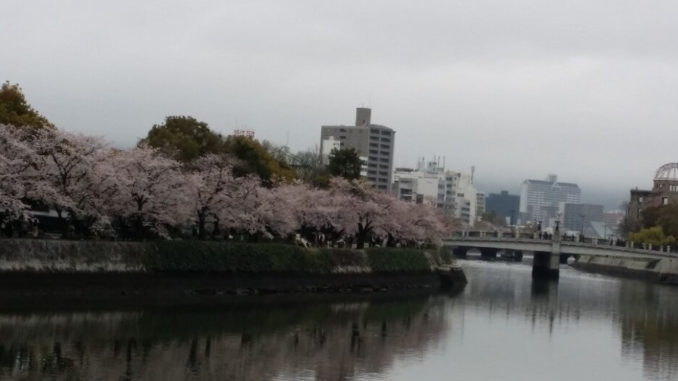 We are in the middle of the Hiroshima cherry blossom season right now. This year, the cherry trees have blossomed against a dull and saturnine sky.
It rained last Wednesday, but the rain did not wash the cherry blossoms off the trees. All week the sky has been grey, obliterating the paschal moon. The surrounding mountains have been hidden in a veil of mist. The rivers exude moisture. This is the most leaden of Hiroshima cherry blossom seasons that I can remember.
Cherry Blossom Viewing Along The Motoyasu River
Last Friday afternoon I was walking south along the east bank of the Motoyasu river south of Peace Park. I was heading towards Takanobashi where I teach an "English mahjong" class a couple of times a month. I took the opportunity to enjoy the Hiroshima cherry blossom season as I ambled along.
The pallid blossoms seem even more washed out than usual against the prevailing grey skies. However, since the cherry is a venusian tree, the blossom offer something of an antidote to the Saturnine atmosphere that pervades Hiroshima at present.
Some of my students have said that they have not been cherry-blossom viewing so far this season. I told them, albeit lightheartedly, that it is actually more important to make a point of doing so to off-set the oppressiveness of the weather.
In that Ficinian spirit, I stopped to photograph a particularly beautiful cherry tree beside the Motoyasu river. It was only after I had taken the photograph that I noticed the umbrella leaning, abandoned, against the trunk of the tree. My eyes had been fixed on the cherry blossom and on framing the photo to include the reflection in the river.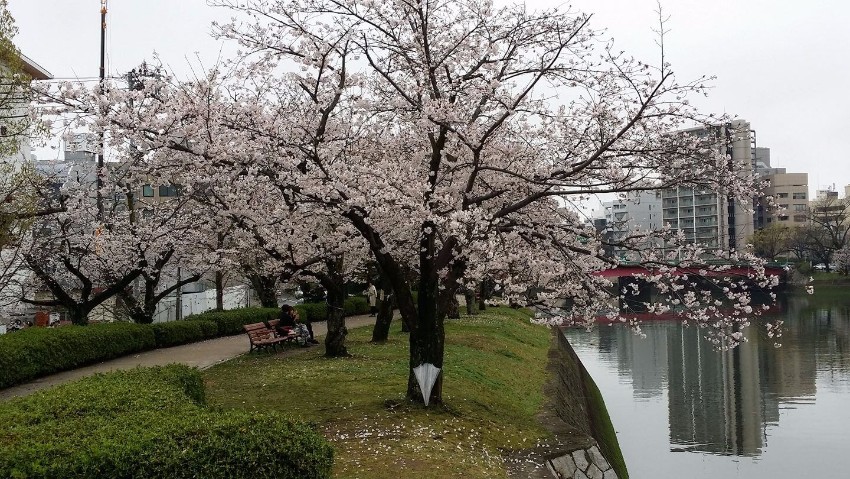 I thought about removing the umbrella and taking the photo again. But no. Umbrellas too are products of nature. And as evanescent as cherry blossom is an umbrella when the rain holds off. It too has its place in the scene. Its transparent cover transformed into an appropriately pallid hue against the trunk of the tree, a fitting statement for the Hiroshima cherry blossom season of 2017.
As I moved off, I noticed that the red bridge that crosses the Motoyasu further south along the river could be seen as a ribbon of red tracing its way through the cherry blossom and reflected in the river: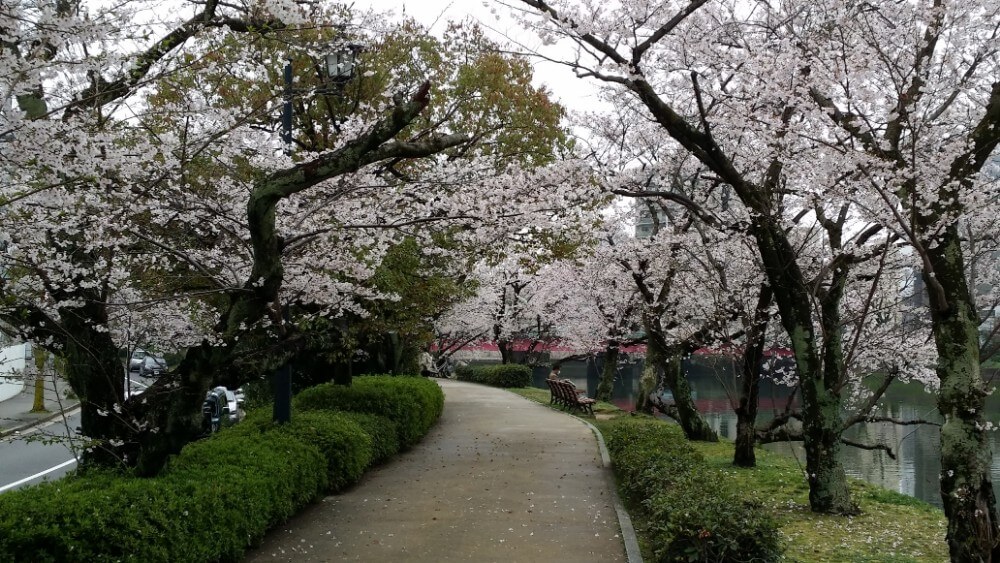 David Hurley
DavidHurleyinJapan.com