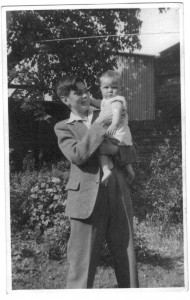 Here is a photo of my late father, Patrick John Hurley (1934-2006), when he was fourteen. It was taken in 1948, in the back garden of his grandparents' house in Leytonstone, London. He has recently become an uncle and his holding his nephew, Peter.
Dad was born in May 1934 and departed this life in April of this year.
In 1952 he joined the British army as a Sapper and served with the Royal Engineers for 22 years, completing his service as a staff sergeant. His overseas postings were to Austria and Malaya in the 1950s, Cyprus and Gibraltar in the 1960s.
Here is a photo of Dad with a mate, off duty somewhere in Malaya: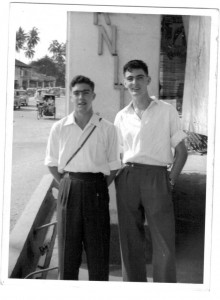 Someone who spent two years in the RE's as a National Servicemen knew Dad in his heyday during the 1950s got back in contact with him a few years ago. They exchanged a couple of letters in which two pieces of information stood out; the first was a surprise, the second a confirmation of what I already knew. The National Serviceman writes that they were assigned to the same Squadron Office in Gillingham on returning from Austria and while awaiting a new posting to Malaya. He adds:
"… our other mutual interest as I recall was soccer, your favourite team being Millwall[!], mine Bournemouth AFC."
Millwall! Well, it makes sense for a Leytonstone boy, I suppose. My interest in football really began in 1970 on our return from Gibraltar, when we moved into a house of our own – rather than army "married quarters" – in Sandhurst, Kent. Football played a big part in the lives of the boys, especially during the winter term when there was "after school football" several times a week (as I remember).
Me: "Dad, what team do you support?"

Dad: "Leeds United."
That is how I became the only boy in our Kentish primary school to be a Leeds supporter and the only boy to wear all white for after school football.
Dad had been posted to Leeds in 1966 after a year in Maidstone. That is when our family's love affair with Yorkshire began. We lived in Leeds for one year and in Wakefield (where my sister was born) for another year before Dad's next posting took the family to Gibraltar for a couple of years.
The second piece of information reads:
"Unlike yourself, I am afraid like most National Servicemen, I did not enjoy the two years I spent in the RE's…"
Dad always looked back fondly to those days when he was a Royal Engineer, especially, if I may say so, in the first few years when he was a young batchelor. I get the impression that the barracks life really suited him.
It was chiefly Dad who gave me a love of history. He was ever kind in small ways that will be missed.
For as long as I can remember, I had always been supplied with goodly reading material. There is a photo somewhere of Staff Sgt Hurley reading a copy of the Beano at the dining room table and the Son and Heir (aged 5) struggling to read a little corner of it.
Each week, in Gibraltar, Dad would read and then pass on to me the Beano, Dandy, Topper and Beezer, as well as a constant supply of War Picture Library and similar comic books.
Later on, I got Battle Action comic and in the 1970's we collected the whole of Purnells six volume (later expanded to eight volumes) History of the Second World War in weekly installments.
Then, it was War Monthly, and for about 20 years, History Today. That was replaced in recent years by BBC History and Military Illustrated, with the occasional copy of the Protestant Reformer magazine slipped inside the covers and would appear in my post box here in Hiroshima at regular intervals…
Although he was baptized into a strict Protestant denomination, Dad's faith in Sovereign Grace on the one hand and his loyalty to the British Army on the other did not prevent him from developing a deep interest in Irish history and a sympathy for the Republic as part of a process of uncovering the roots of the Hurley family and its Catholic ancestry.
Two hymns that were sung at his funeral. The first was "Amazing Grace" (one of his favourites, and one that the family felt everybody would know). The second was by Isaac Watts:
Give me the wings of faith to rise
Within the veil, and see
The saints above, how great their joys,
How bright their glories be.
David Hurley