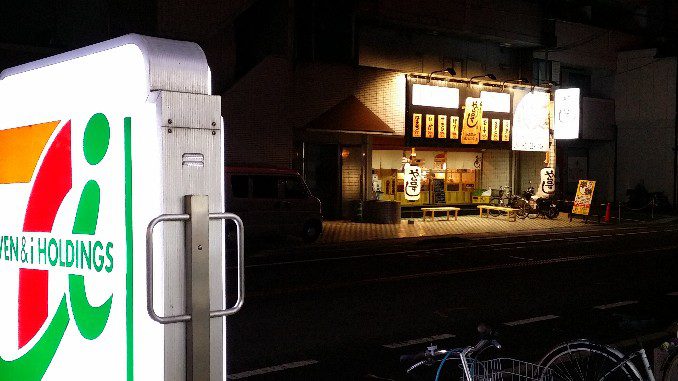 The Rakurakuen grapevine was buzzing the other day with news that Yataizushi, the sushi-izakaya opposite Rakurakuen tram-stop, 寿司居酒屋 や台ずし 楽々園駅前町, was offering 100 yen beers all evening from Tuesday to Thursday of this week.
I mentioned this to my loquacious quaffing partner, Brendan McG. and we agreed on popping into the joint for a few glasses of knappy ale on Wednesday evening.
Sushi Moriawase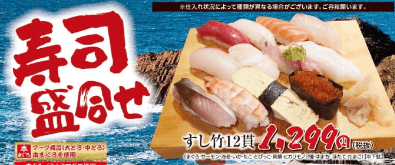 For our main dish we went for two lots of "sushi moriawase," or "assorted sushi." There were 12 pieces of sushi on each tray. Not bad for ¥1,299 (plus tax) a pop.
100 Yen Beers Begin To Flow…
The first round of beer took a while to come and we began to suspect that they were deliberately slowing down the service, but the pace of service picked up as the evening went on.
Here we are on beer #5 or #6 and everything seems just fine… I must say, my man Mr McG seems to be getting younger as the years go by…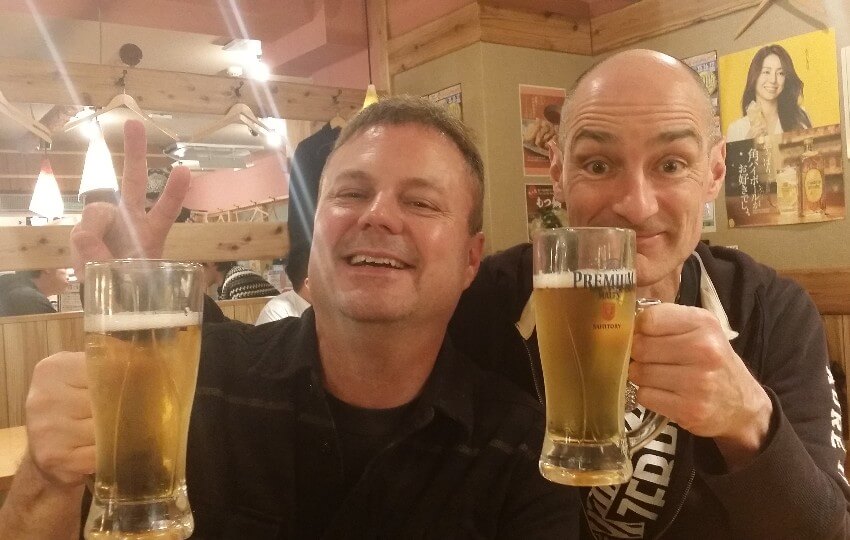 With beers so cheap there was not much incentive to decamp to another joint. We met at 7:30pm and, according to the bill, we took our leave of Yataizushi just before 11pm so as to get to Takomon, the takoyaki joint on the other side of the tram tracks, before it shut.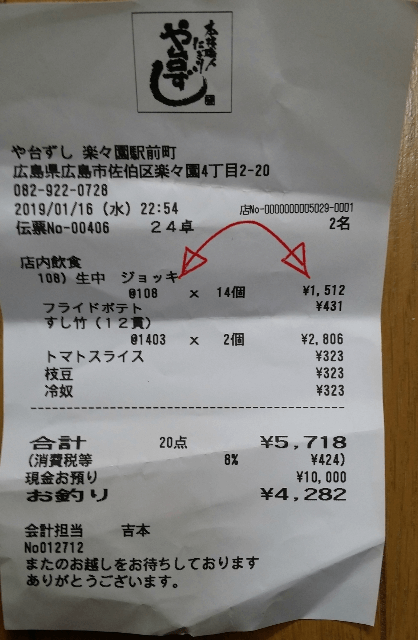 The Bill
Also according to the bill, we had a total of 14 beers at ¥108 (inc. tax), or about 99 US cents, per glass.
The other items on the bill:
Furaido poteto (chips)
tomato suraisu (sliced tomato)
edamame (soy beans)
hiyakko (cold tofu)
Kanjou NOT Kanchou!
While we're on the topic of Japanese vocab, the word for "bill" in Japanese is "kanjou." But go careful. If you're going to ask for the bill in Japanese make sure you don't soften the "j" to a "ch" sound or you'll be asking for a "goose" up the backside.
It might be safer to use the common alternative "kaikei," or simply to say "Owaisou desu" – it seems like we're done. 🙂
Takomon, My "Local"
After we left Yataizushi we hopped across the road and across the tram tracks and saw the cheerful sight of the lights flashing around the Takomon sign.
Ah, Takomon! Beer served so cold that ice rises from the bottom of the glass as you drink it. Takomon – "Octopus Gate," is my "local," and the nearest thing to a pub that you'll find in Rakurakuen.
Here's my favourite photo of Takomon, which I took a few years ago now, although the place hasn't changed much since then: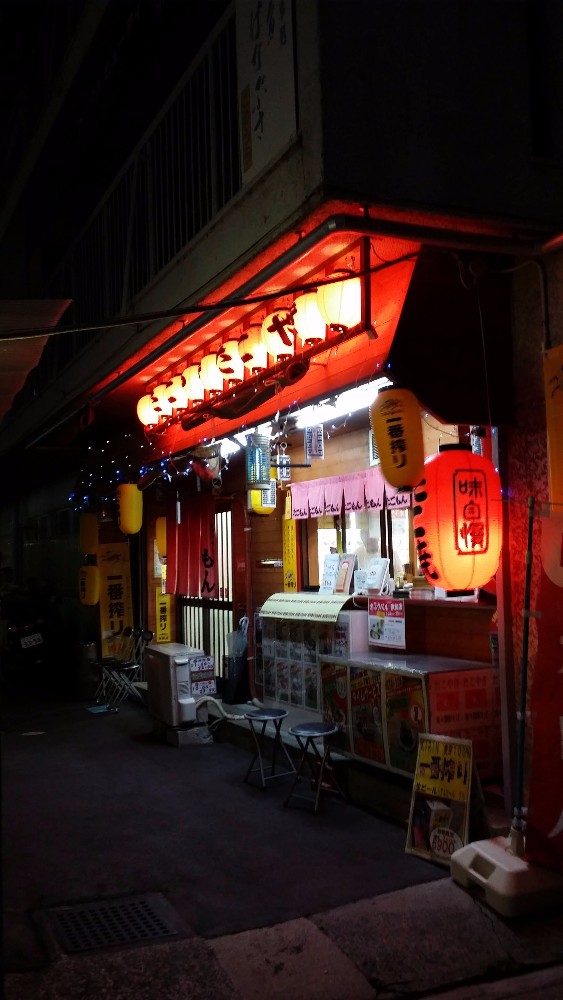 DH