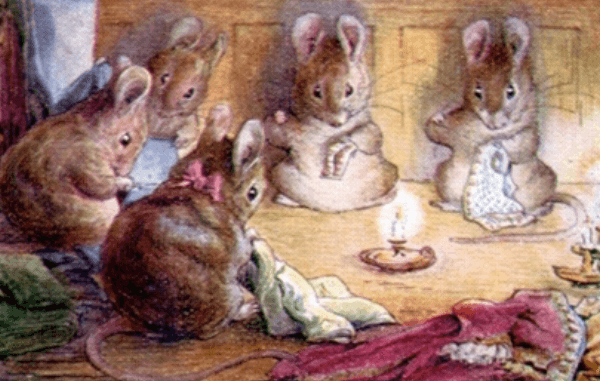 Summer Course: Children's Books in English,
Okeiko House, Nishi Hiroshima: okeikohouse.jp
Tuesday 2nd August 2022, 2pm-4pm. ¥2,000 per student.
Course Info: https://davidhurleyinjapan.com/english-language-teaching/summer-course-childrens-books-in-english/
---
The Tailor Of Gloucester is an English children's story by Beatrix Potter, of "Peter Rabbit" fame. She wrote and published it in 1901.
It tells the tale of a poor tailor who has to make a coat and waistcoat for the Mayor of Gloucester's Christmas Day wedding. He works late into the evening cutting and preparing the fabric. He lays everything out so that he can start sewing it the next morning.
When he goes home he sends Simkin the cat to buy some milk, bread, sausages, and some red cotton thread. While Simkin is out, the tailor rescues some mice whom the cat has trapped under some teacups.
The mice are grateful to the tailor for rescuing them, and spend the night in the tailor's shop sewing the coat and waistcoat for him.
Read The Tailor Of Gloucester Online
According to UK law, the copyright on published works expires 70 years after the death of the author. Beatrix Potter died in 1943 and so the copyright expired in 2013 and her works entered the public domain.
What that means is, anybody can publish her works, including the free ebook service Gutenburg. Here is their free online version of The Tailor Of Gloucester:
https://www.gutenberg.org/files/14868/14868-h/14868-h.htm
And here, while we are at it, is the story of Peter Rabbit:
https://www.gutenberg.org/files/14838/14838-h/14838-h.htm
Jon England Reads The Tailor Of Gloucester
It's Based On A True Story!
According to Wikipedia, The Tailor Of Gloucester is based on the story of a young tailor who had been preparing a suit for the Mayor of Gloucester. When he went back to his tailor's shop the next morning he found the suit already completed. His staff had worked on it over night. However, he told people that fairies had visited his shop and made it for him:
https://en.wikipedia.org/wiki/The_Tailor_of_Gloucester
Vocabulary Notes
There are several unusual words relating to tailoring. I think Children enjoy hearing all those stange words that add atmosphere to the tale without needing to understand what they all mean.
A Nursery Rhyme Riddle
The mice make fun of Simkin the hungry cat who cannot get into the tailor's shop to catch them. They sing a nursery rhyme which includes some nonsense words just for the sound quality (as is often the case with nursery rhymes):
I went into my grandmother's garden,
And there I found a farthing.
I went into my next door neighbour's,
There I bought a pipkin and a popkin—
A slipkin and a slopkin,
A nailboard, a sailboard,
And all for a farthing.

The Nursery Rhymes of England, collected by James Halliwell, 1853 (5th edition 1885). See Seventh Class: Riddles, p. 119 https://www.gutenberg.org/files/32415/32415-h/32415-h.htm
DH