My return to Hawai Onsen and Tottori Sand Dunes has inspired me to look up some of my escapades during my first year in Japan. Here is an account of a trip to Yunogo Onsen in Okayama Prefecture with Roland Petrov on Palm Sunday, 1991. We stayed at the Chikutei ryokan.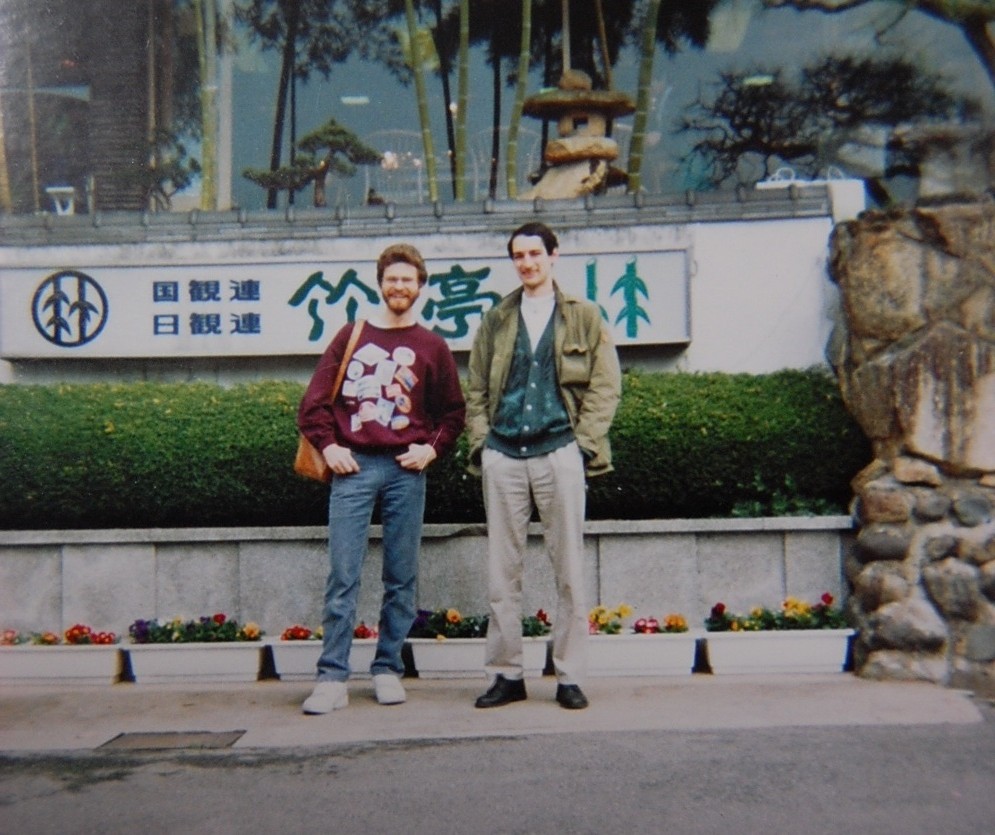 Yunogo onsen is a small place out in the hills, small but spread about the broad-bottomed valley. Roland photographed the baker's sign – three loaves of bread soaring into the sky. We then came to a Suntory machine, another subject [for a photograph], and then to a very ancient building, the former bank, built about seventy years ago, a cube-shaped red-brick building now containing the "local story."

We proceeded over the bridge crossing the wide, shallow river and followed the main road until we came to a small side street where our ryokan was located.

A little artificial waterfall greeted us as we climbed the steps. Our lady led us to our room. "Gomen ne," ["Sorry,"] she said as she performed each little action. The shoji slid back, "Gomen ne," and she came in to serve dinner. "Gomen ne," and she lit our nabemono heater. "Gomen ne," and she poured our drinks, "Gomen ne." We laid bets on how many times she'd say "Gomen ne" the next morning.

The food wasn't very special, the the onsen egg proved a little more edible (though hardly more appetizing) than before [i.e. on our trip to Dogo Onsen].

The bath, however, was superb. The reason we went to Yunogo was for the outdoor onsen, and it is the best onsen experience we've had so far. Approaching the baths you ascend a rocky path up to a bamboo grove. To the left the men's onsen, still out of sight, concealed by the rocks. Beyond, higher up the path, the women's onsen.

Then we turned to the left and suddenly a shimmering pool surrounded by rocks lay before us. On two sides the pool was curtained by bamboo, and on the other a wooden construction which served as the changing area, in keeping with the atmosphere of the setting. A little stone lantern stood close by, and every so often warm water would pour from a pipe set over a "throne" of rocks.

We bathed before and after dinner, the first time in the fading light of early evening, the second time in the dark, the waxing moon rising high above the topmost leaves of the bamboo.

We stayed there for a good hour and a half, feeling as if we were satyrs rather than men.
I haven't been back to Yunogo Onsen, but Chikutei Ryokan is still in business and well worth a visit.