The purpose of our trip to Miyajima on the Culture Day national holiday was to visit the renovated aquarium but I didn't take many photos there, except of their latest exhibit, a diver feeding fish in the main aquarium. (The photo, like a bunch of others from 2011, has gone missing.)
Our route took us past Itsukushima Shrine; the tide was coming in and lapping around the foot of the shrine gate but we were able to cut across the mudflats on our way to the aquarium.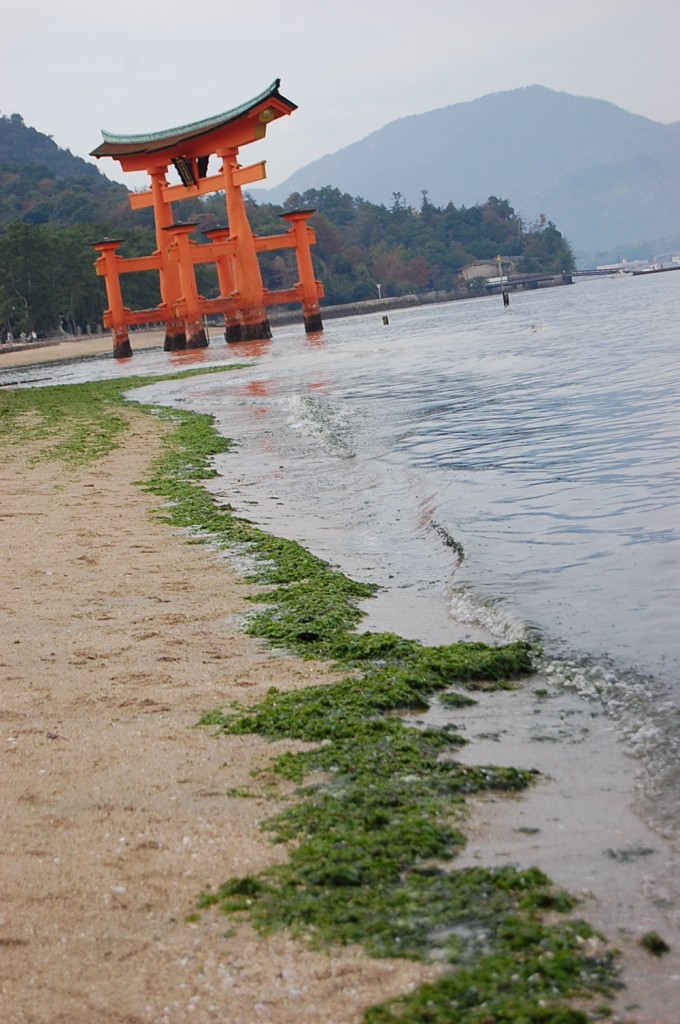 When you are on Miyajima you have to have unagi donburi – eel on rice – for lunch, so that's what we ordered at a restaurant just opposite the aquarium. The unagidon they served us was different from usual. It was served in a covered bowl that was heated over an open flame at the table.
Eileen-chan was keen to go back into the aquarium to see another sealion show, which gave me ample time for another cleansing beer in the restaurant.
From where I sat I had a good view of the passing pedestrians and invited a contemplation of the oddity of human gait, especially when viewed at the perpendicular in its manifold Japanese manifestations. After watching fish and sealions zooming about with grace and elegance, one cannot help but be struck by the absurdity of the site of the human torso teetering on top of two tottering sticks.
Daishoin Temple
From the aquarium it is an easy stroll up the hill to Daishoin Temple, founded in the early 9th century Anno Domini by the itinerant monk Kobo Daishi who beetled all over the place discovering hot springs and founding temples and who is, according to tradition, still meditating in the mountains somewhere or other here in Japan.
Here are some excellent photos taken at Daishoin Temple by Ilya Genkin, a talented Australian landscape photographer.
Here's a photo I took while at Daishoin Temple: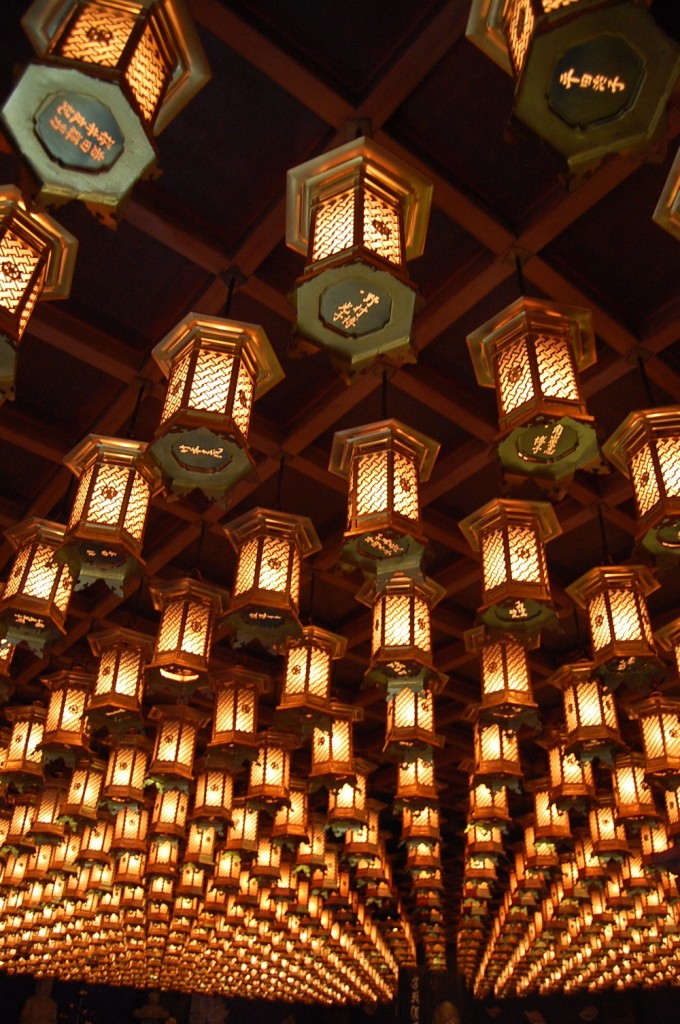 Senjokaku Pavilion
After that we went down the hill, round the back of Itsukushima shrine, and up the hillock on the other side to look at the pagoda and the old Senjokaku Pavilion, which dates back to 1587 and was commissioned by Toyotomi Hideyoshi, the crucifier of the Twenty-six Martyrs of Japan in Nagasaki, so that Buddhist sutras might be chanted for soldiers who fell in battle. The building was never completed, which is why it looks a bit like a barn and is now dedicated to the repose of the soul of its founder.
We strolled back past the torii which looked quite different in the early evening light and again as the sun went down and then when illuminated at night, as you can see in the photos.
Report of a previous trip to Miyajima can be found on this old blog post for August 2007:
DH