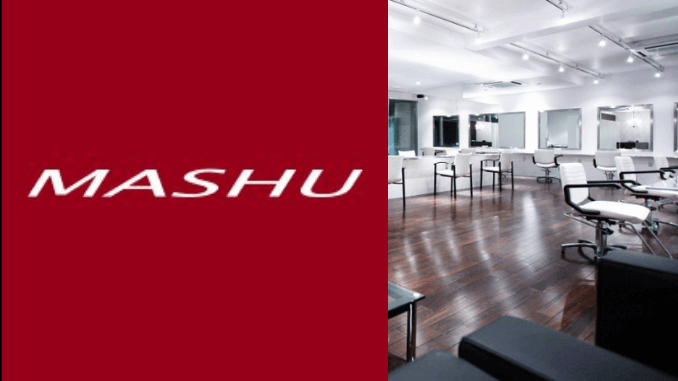 On Friday evening one of my English teaching colleagues picked me up at Itsukaichi station and drove up the hill to her clients at the Inokuchidai MASHU hair and beauty salon. The idea was to give her students a one-off 60 minute English conversation session with a native English speaker, namely, Yours Truly. 🙂
Teaching English to Champions
On the reception table a magazine was open on a page reporting on Inokudai MASHU's gold prize in a recent hair and cosmetics competition with tonight's students, Inokuchidai MASHU manager and make-up artist, Tsunekawa-san and Tochino-san, receiving the first prize trophy.
That nicely put things into perspective for me. I'm about to teach champions! This aspiring team is ambitious to do well in their chosen industry and realise that developing their English skills can help them go on to achieve much more in the future.
It was a fun session. There were three students and they had each prepared self-introductions. After each introduction we invited the other two students to ask questions and helped them by writing clear and natural versions of the questions they wanted to ask on the whiteboard.
What's Your Favourite…?
There was a lot of laughter as Tsunekawa-san and Tochino-san stuck to one of the model questions on the board, "What's your favourite…?"
What's your favourite drink?
Beer! But I also like wine and sometimes gin and tonic too. There is a bar near Itsukaichi station called LDK…
I know it!
When I go to that bar, I drink gin and tonic.
Let's go there one day!
Which Country…?
I gave a brief self-introduction of my own and one student asked a more complex question in Japanese which I translated into natural English as:
Which country has made the biggest impression on you?



My answer? Italy! Because of the food, architecture, language, history, art, and sense of style. However, I prefer to live in Japan. 🙂
After Class Photo and Feedback
After the class was over we posed for a photo: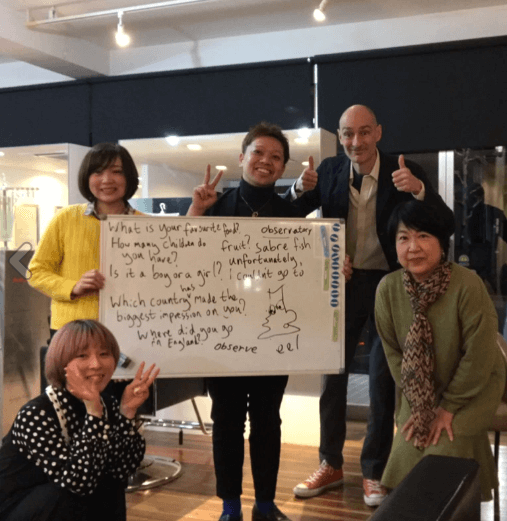 Here's some feedback that Tochino-san posted on the Inokuchidai MASHU blog about the session:
こんにちは、栩野です
今日は英語の日。
そしてついにイギリス人の先生が!!
背も高くてカッコいい!!
イギリスの綺麗な英語を聞きつつ‥聞きとるのに必死でした笑
でもこうやってお客様の先生と始めた英語。
今ではお客様も1人増えて、どんどん縁が広がって、こうやって美容の仕事を通じていろいろなことができる
Hi, this is Tochino.
Today was English conversation day and at last we had a British teacher! !
He was a tall, cool dude! !
Even though we were listening to elegant British English, catching the meaning completely defeated us, LOL! But that's how it's been, with our teacher, who's one of our clients, since we started English.
Now that another customer has joined our class, we're rapidly pushing the boundary so that we can achieve a lot more in our work as beauticians.
Good luck, and let's do it again some time!
DH
P. S. Get yourself a hair and beauty upgrade at the hands of champions at: MASHU Inokuchidai Salon!