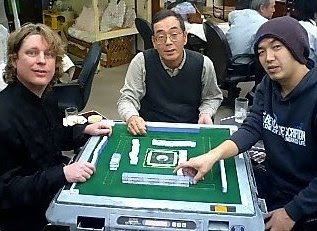 This has been the quietest start to the Cock's Eye year ever. The first quarter is done and dusted but we have had just three, or some would say, four evenings, about which, more will be said in a moment.
First, here's the belated report on the game that was played at the end of January…
After a long absence, Jezz returned to the table. He flew in from HK to renew his old love affair with some of the delights of Hiroshima and met up with us at Kemby's for Happy Hour on Friday 30th January.
At first it did not look as if any mahjong would be happening that evening as The Poor Little Cypriot was the only representative of the local foreign contingent present. Happily though, Hide was able to play and Noda joined us later.
Jezz, Noda and Hide, Kodama Jansou, 30th Jan 2009
Hide won the first game, Jezz won the second, despite feeling at a disadvantage after several years of playing Chinese mahjong (no Riichi, no discard row, go out on anything anyhow, etc).
Noda promptly won the third, starting off with a Suuanko hand within minutes of joining the table.
David hit three figures in the negative before staging an end-of-the-evening rally to halve his deficit. The losing streak continues!
Noda –, –, +57, +52, -38, — = +71
Hide +22, -6, -4, -22, 0, +35 = +25
===
Jezz -4, +18, +11, -24,* -12, -33 = -44
David -18, -12, -64, -6, +50, -2 = -52
* Oya Chombo.