Our local supermarket in Rakurakuen is called "Madam Joy". It is part of the Hiroden tram company. Every summer a small festival is held in the adjacent car park, which is why I call it the "Madam Joy Summer Festival" but it's correct appelation is actually "bon odori taikai".
There are a lot of "bon" or "obon" festivals at this time of year. Obon is a Japanese Buddhist custom to honour the spirits of the ancestors. Odori is a style of dancing performed during the Obon season, usually at festivals or "matsuri". Our local neighbourhood bon odori is not officially referred to as a festival at all, but is called a "taikai" or "big meeting" instead. Perhaps it is to distinguish it from the "Rakuraken Matsuri" which takes place on the last two Saturday evenings of July.
My daughter, Eileen-chan, dressed up in her pink summer yukata and joined in the obon odori with one of her school friends. They have their backs to the camera in this photo of the festival – er, big meeting – in full swing.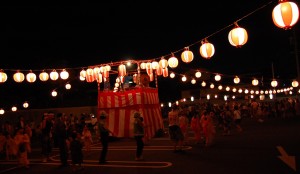 Afterwards, we went along to our new local Italian restaurant, Bacca, which I will review in an future post.
DH